Trump Double-Beats Obama In New Hampshire – Incumbent Vote Shows The Red Wave Could Be Coming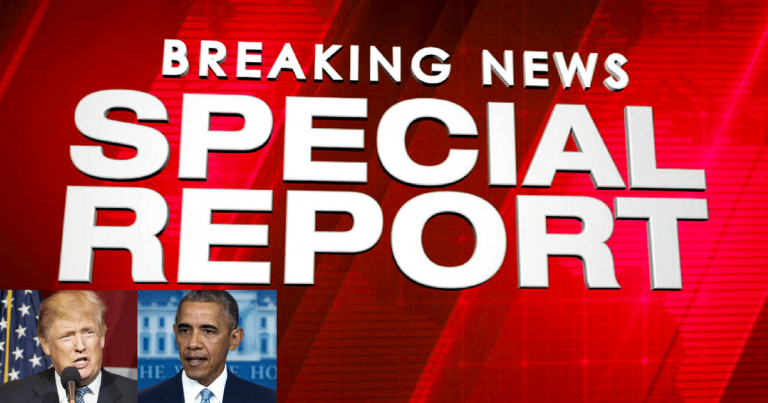 Yes, President Trump is the incumbent, but he's not taking anything for granted. The 2020 race is make-or-break for the country.
And the president is treating the primaries as seriously as he should, even though none of his GOP challengers have a chance against him.
The media is trying to put as much attention on the Democratic primaries as possible. As if that's the only race that matters.
President Trump doesn't agree. He's sent top members of his team to Iowa and New Hampshire. He hosted major rallies in both states.
Because of that, he broke a big record in New Hampshire. One not even Obama could do.
From Fox News:
President Trump didn't have a serious challenger in the New Hampshire primary, but he still turned out enough voters to more than double former President Barack Obama's 2012 vote total in the state, indicating that the Republican base is all-in on Trump as he prepares to face the eventual Democratic nominee in a reelection battle this November.
And Trump was happy to show it off: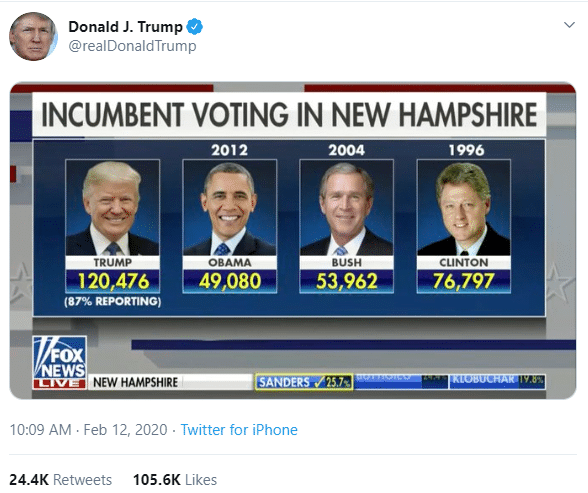 Wow, this is something, isn't it? Even though he's the incumbent candidate, President Trump was able to rack up 120,476 votes for the New Hampshire primary.
That's more than what Obama had, and also more than George W. Bush or Clinton brought in during their incumbent campaigns.
All three of them were re-elected. So, what does that tell you?
Why did so many people turn out to vote for the president in the Republican primary? You'd think this is just a formality, right?
There is a handful of people also running for the nomination. But if I asked you, you probably wouldn't even know their names.
These results are important because they seem to reveal the level of enthusiasm Americans feel about Trump's campaign.
Voters came out of the woodwork, just to cast their primary vote for Donald Trump. Imagine the level of excitement they have for the general election?
Do you think more records will be broke, come November? How many people do you think he will motivate to hit the polls?
(Especially if Bernie Sanders gets the Democratic nomination?)
SHARE if you are a part of the 2020 Trump Train!