Trump Drops the Florida Hammer on DeSantis – Donald Accuses Ron, Tries to Shame Him for 'Failure'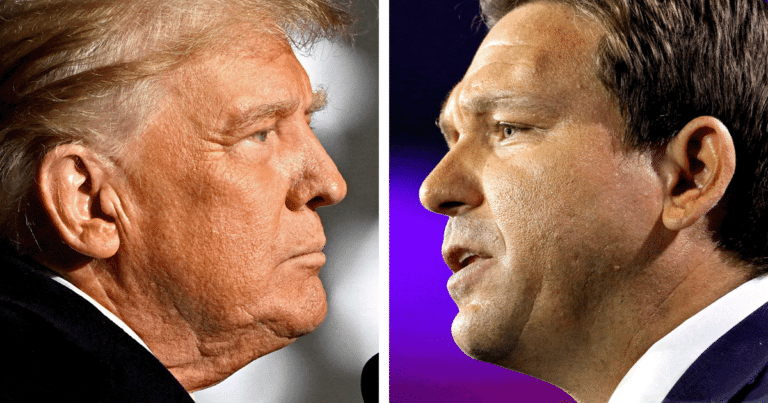 What's Happening:
The shocking Democrat-led case against Donald Trump has helped his popularity bigly. According to many GOP primary polls, Trump is leading by a country mile. It could be very difficult for the Republicans currently running to make up that gap.
But Trump is still very worried about one man, someone who hasn't announced a campaign yet.
Trump continues to go after Florida Gov. Ron DeSantis. DeSantis has been a legendarily successful governor, saving the state after the devastating Hurricane Ian last year. Trump is slinging mud at DeSantis over a recent storm that hit Fort Lauderdale. But the former president might be missing something.
From Breitbart:
Former President Donald Trump ripped Florida Gov. Ron DeSantis… saying DeSantis should be in Fort Lauderdale helping oversee the response to the flooding of one of his state's biggest cities instead of touring the nation "campaigning." […]

"The governor left yesterday, and the unprecedented flooding intensified later in the night. He returns today," Griffin said, per Politico. "Nonetheless, at the direction of Governor DeSantis, the state emergency response apparatus is in full swing…"
Trump and his son Donald Jr. attacked Ron DeSantis for not being on the ground while Fort Lauderdale was hit with a flood. According to DeSantis's spokesman Bryan Griffin, the governor had been coordinating the response and returned within a day.
It seems that Trump is being oddly selective with his smear attacks on DeSantis. The governor has scored major conservative wins for Florida–even in the face of intense backlash from the left. DeSantis has gone toe-to-toe with Joe Biden and won (something Trump has failed to do himself).
Trump did not congratulate DeSantis's historic recovery efforts after Hurricane Ian. And he has been criticized for claiming Florida has "always" been great, even under former Democrat Gov. Charlie Crist. Trump seems to forget that, while Trump helped DeSantis win by a small margin in 2018–DeSantis won re-election by over 1 million votes in 2022.
Without Trump's endorsement or help.
It seems Trump is very worried about DeSantis. And the man hasn't even announced a campaign yet! The only way Trump is able to muster support these days is when the left attacks him. Many have warned that the DA's case against Trump was done deliberately to trick Republicans into backing Trump, who could lose against Biden again.
As the dust settles from this case, Trump is going to have to convince voters why he is worthy of returning to the White House. Meanwhile, Ron DeSantis will continue to score wins as Florida's governor–giving Trump a run for his money.
Maybe Trump's attacks are too credible after all?
Key Takeaways:
Donald Trump attacked Ron DeSantis over flooding in Fort Lauderdale.
DeSantis was out of town for a day but returned to the state.
Trump continues to attack DeSantis, who is successful in FL without his help.
Source: Breitbart