After Trump Fan Beauty Queen Loses Crown – She Declares "First Ever Miss MAGA Pageant"
She put on a new MAGA crown – and kicked off a new event in honor of 'The Donald!'
tIf you haven't heard about Kathy Zhu, get ready. This young woman was crowned Miss Michigan.
But because she refused to put on a hijab—and she expressed conservative views online— Miss World America stripped her of her title.
The Asia American was then attacked by the liberal media. They actually accused her of being racist, if you can believe it.
But this young woman is not going to let the left-wing mafia silence her. Since losing her crown, she has stood up for Trump and conservative values.
Now, she is getting behind a big event that is sure to gain momentum.
From Twitter: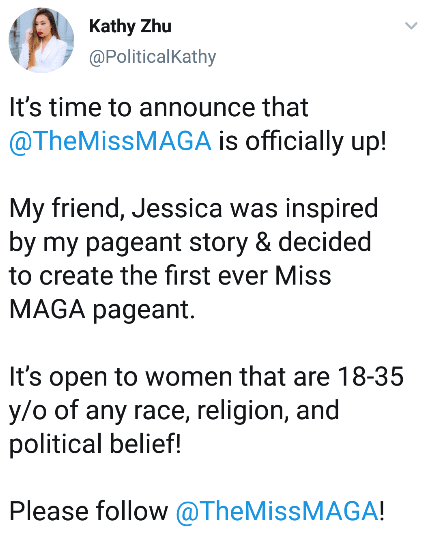 "It's time to announce that @TheMissMAGA is officially up! My friend, Jessica was inspired by my pageant story & decided to create the first ever Miss MAGA pageant. It's open to women that are 18-35 y/o of any race, religion, and political belief! Please follow @TheMissMAGA!"
Here's the MAGA event post: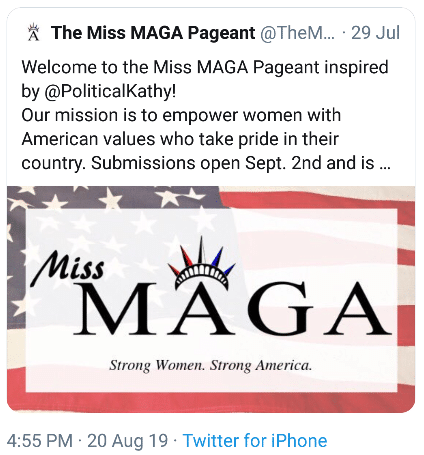 Kathy Zhu tweeted out her support for the first-ever Miss MAGA Pageant.
The pageant—inspired by Zhu—is dedicated to empowering young women who love America and take pride in their country.
It's sure to draw thousands of young, patriotic women who want to show off their excitement for this country.
And get this, unlike Miss World America, they are not discriminating based on politics.
The pageant is open to women of any race, religion, and political belief.
That means even liberals who love this country can qualify. (Are there any left? I hope so.)
The pageant is open to all women 18-35 years of age.
I wouldn't be surprised if this pageant grows in the coming years, becoming a major event for patriotic Americans.
SHARE if you support Zhu and the new Miss MAGA Pageant!
Source: Twitter