Trump Just Turned Heads Across America – Donald Launches His First 2024 Ad, Pledges to 'Make It Great Again'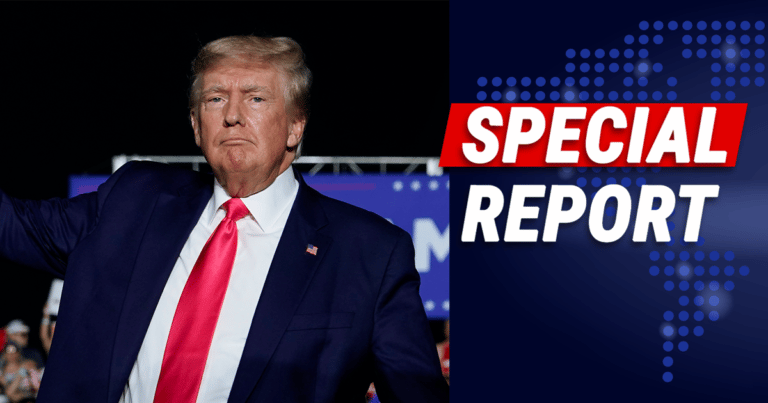 What's Happening:
Although it's still 2022, the 2024 Presidential Election campaign season has already begun. Biden says he's running for re-election, but it was President Trump who launched his campaign first. Last week, he made good on his promise and announced his 2024 bid for the White House.
There is still a long way until Election Day, but Trump is not sitting around waiting. While other GOP figures continue to consider a 2024 run, the 45th president is making waves. He will probably soon hit the campaign trail, hosting rallies across the country. But before that, he dropped the very first 2024 ad.
From The Western Journal:
Former President Donald Trump unveiled a poignant, 38-second campaign ad on Sunday, just five days after announcing his plans to run for the White House again in 2024.

"Make an entrance. Make a run. And then, make history," the narrator says in an understated video for the outspoken 45th president.

"Make a difference. Make good on your word," the ad continues.

"Make it bigly. But most of all, make it great again. Trump."
The ad is only 38 seconds long, but it captures Trump's historic and unforgettable rise in 2016. It also highlights his successes as president, something Democrats have worked so hard for Americans to forget.
Democrats have spent the last two years trying to portray Trump as an "insurrectionist" who "threatens" our democracy. But none of their "commissions" and poorly-timed speeches have worked to convince enough people of their slander.
Trump isn't spending his first ad complaining about the 2020 Election or taking shots at possible rivals. Perhaps he's taking advice from Newt Gingrich and Lindsey Graham and focusing his message on his success.
The ad focuses on memorable comments Trump made, as well as his continued commitment to the American people.
If Trump is to become the frontrunner of this race–and stomp Democrats–he needs to unite the GOP under a single goal. And it can't be about the 2020 Election or other petty arguments he has with other Republicans.
It needs to be about American greatness. It needs to be about turning the country back, after years of failure.
It needs to be exactly what this video is.
Key Takeaways:
Trump dropped the first campaign ad of the 2024 Election.
The short video focused on Trump's achievements in 2016 and his presidency.
Trump is the first Republican to announce his 2024 candidacy.
Source: The Western Journal, TRUTH Social