Trump Delivers 1 Promise to Fans After Arrest – And Leftists Are Already Furious About It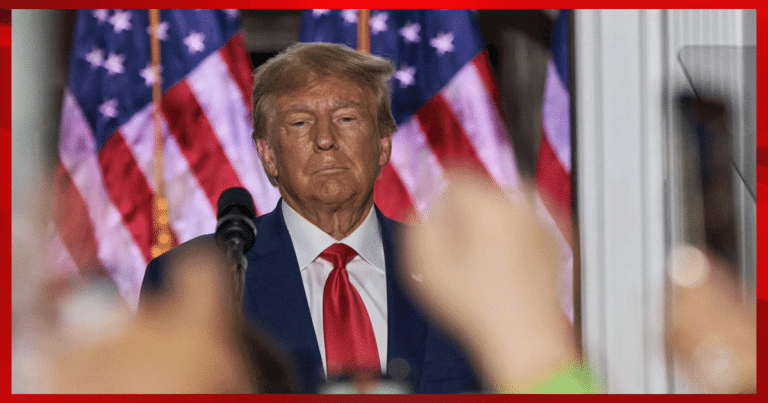 What's Happening:
Tuesday of this week was particularly full for Donald Trump. It was the day he appeared in court over the left's latest indictment against him. Biden's DOJ is going after Trump over documents he kept, charging him with an unprecedented 37 counts. Many Americans, if not most, believe this is simply a political hit job.
Massive crowds swarmed the courthouse as Trump arrived. The media swarmed like locust but were not allowed into the courtroom. But that wasn't even the highlight of Trump's day. On that very same day, he gave a speech to an expectant crowd in New Jersey. And he was fired up, we can say the least.
From The Post Millennial:
"Today we witnessed the most evil and heinous abuse of power in the history of our country," Trump said…

Trump said that Biden and his DOJ are trying to "destroy American democracy," but that "we will win bigger and better." […]

"I will totally obliterate the deep state," Trump said. "I know who they are, I know exactly who they are. They want to take away my freedom because I will never take away your freedom. They want to silence me because I will never let them silence you."
Trump: "They're not coming after me, they're coming after you and I just happen to be standing in their way and I will never be moving. On November 5, 2024, justice will be done. We will take back our country and we will Make America Great Again." pic.twitter.com/Ms6EQaKWcB

— The Post Millennial (@TPostMillennial) June 14, 2023
You might assume that Trump would keep a low key after the second indictment against him by Democrats in power. Instead, he fired back with both barrels, accusing Joe Biden of "political persecution."
Trump warned that these attacks against him are not really about his campaign. He claimed that the left is going after him because they want to take away Americans' freedom. He said the left wants to "silence me because I will never let them silence you."
He appeared as confident as ever, in light of these attacks. He vowed that, when he returned to office, he'd "totally obliterate the deep state."
Democrats appear to be launching these attacks to stop Trump from winning in 2024. Either they expect him to be convicted–and unable to run for office. Or, they are hoping all this slander, spread by the liberal media, will make it impossible for Trump to win.
But the latest polls suggest Trump is only getting more popular among voters. If the primaries were to be held today, he'd win by a landslide. Democrats should be very worried if Trump wins the GOP nomination.
Biden is a blundering fool who is facing his own investigations. His cognitive abilities are only declining and he is currently on the wrong side of the transgender controversy. By 2024, he might not be remotely fit for re-election.
Meanwhile, millions of Americans will flood the polls to vote for Trump. Democrats are playing a very risky game. And they'll probably lose.
Key Takeaways:
Donald Trump gave a speech on the same day as his arraignment in Florida.
He blasted Democrats, calling this indictment "political persecution."
He vowed to "totally obliterate" the deep state if re-elected to the White House.
Source: The Post Millennial