Trump Sideswipes The Golden State – "Your New Law Against Me Is Unconstitutional"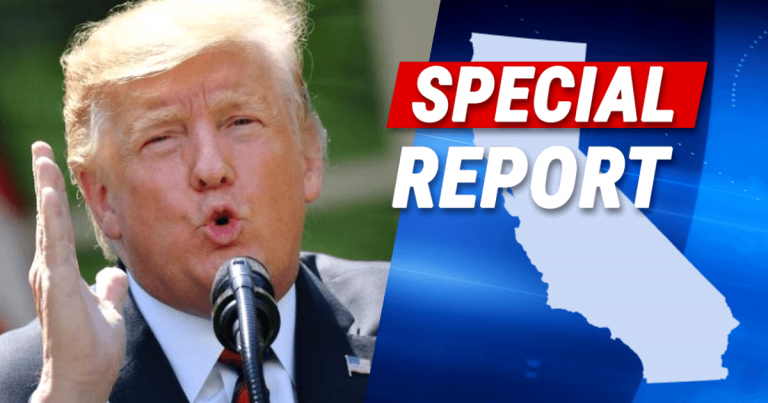 California went after him – but Donald has the upper hand!
You already Trump is running for President in 2020. Do you think he should be on every state's ballot?
Most Americans do. But not California.
California passed a state law – "The Presidential Tax Transparency and Accountability Act" – that requires all presidential candidates to release their tax returns.
The President and his team aren't going to sit around and let this happen. That's why they're suing California.
Via Fox News:
"President Trump, his campaign, and the Republican National Committee filed lawsuits in California federal court Tuesday arguing that a state law requiring him and any other presidential candidates to release their tax returns is unconstitutional…"
Trump vs. California – who do you think is going to win in the ring?
And this time, the President and his colleagues aren't pulling any punches.
They use bold language, and appropriately call this law "a naked political attack against the sitting President of the United States."
Trump's legal team is also specifically citing the Constitution, saying that all-imporant document sets the qualifications for President.
Therefore, this power does NOT fall to the states. As the lawsuit notes:
"The Supreme Court has held that those qualifications are 'exclusive' and that States do not have the power to 'supplement' them with their own requirements."
The lawsuit goes a step further by directly accusing Cali politicians of targeting Trump simply due to his politics.
They have some solid proof, too:
This law is almost identical to one that was passed in the state legislature in 2017, and California Senator Scott Wiener flat out admitted there was an "undertone" to the bill.
In other words, the bill was only created to get at Trump's tax returns. Just like this new law.
In my view, it's all manipulation and nothing more. It's creation of legislation to attack the President. Period.
Trump's personal attorney, Jay Sekulow, flat out says the law is "flagrantly illegal."
Did California really think they could get away with this? Passing "laws" that are A. illegal, and B. transparent attacks on the sitting President?
I really hope Trump wins this lawsuit – do you?
If he doesn't, it would mean Democrats can pass just about any "law" they want, provided it's made to go after POTUS.
And that would mean we end up in a very, very dark place.
SHARE if you support Trump suing California to stay on the ballot!
Source: Fox News