Trump Tells Hillary To Run, Beat Warren – On One Condition: She Has To Explain Deleting Emails Under Subpoena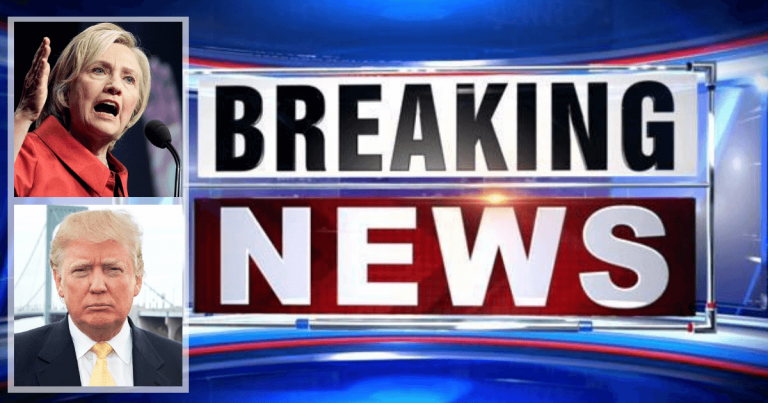 Hillary didn't think Donald would dare – but she's got to do what he says!
It's no secret that the left's 2020 lineup isn't what you call stellar. There are no standouts, not even former Vice President Joe Biden.
The current frontrunner is a woman who has caught flack for claiming to have Native American heritage for years.
Some have considered the only way for the Democrats to succeed is if they drag Hillary Clinton back into the running.
Okay, you do just that, liberals.
But it turns out, Trump has a few ideas for the Democrats. He even encouraged Hillary to jump back in.
On one condition.
From Twitter: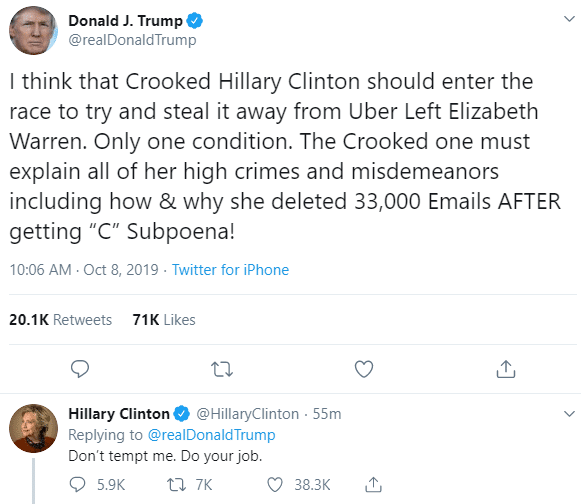 "I think that Crooked Hillary Clinton should enter the race to try and steal it away from Uber Left Elizabeth Warren. Only one condition. The Crooked one must explain all of her high crimes and misdemeanors including how & why she deleted 33,000 Emails AFTER getting "C" Subpoena!"
I'm sure the Democrats are reeling from this latest scorcher from Trump.
He called out Clinton, saying she should enter the race to steal the nomination from far-left Elizabeth Warren.
But the one condition? Hillary has to explain how and why she deleted her infamous 33,000 emails.
Funny how she was never held accountable for that attempt to hide information from the government.
And did you catch Hillary's response? "Don't tempt me. Do your job." Sounds like it's pretty enticing to her.
And Trump would love that rematch.
Remember, Democrats are trying to impeach Trump over a single phone call—a call whose transcript he gladly handed over.
Yet Clinton never got in trouble for deleting 33,000 emails—even as the FBI was investigating her off-the-grid server.
You'd think that would have been grounds for some serious investigations. But… nothing!
How interesting, right? Democrats surely do seem to have one standard for themselves and another much harsher one for everyone else.
But, I agree with Trump. Clinton should get back into the game, as long as she fesses up to what she did.
SHARE if you would love to see Trump beat Hillary again!
Source: Twitter