After Trump Says He Will Protect Jesus, President Statues – He Orders U.S. Marshals To Prepare A Defense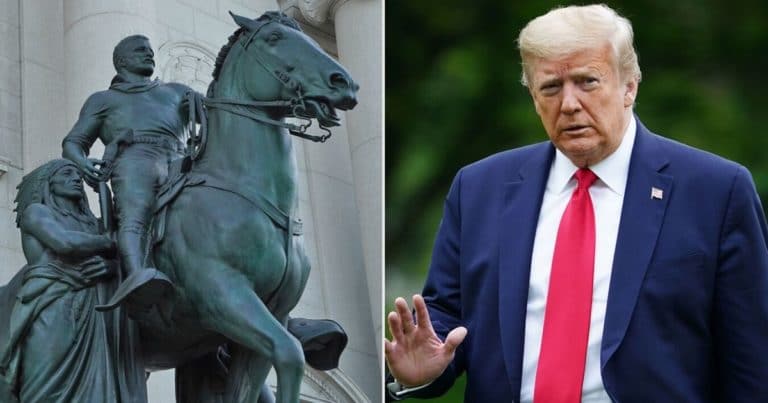 In recent weeks, protesters have been targeting American monuments and statues. It started with calls to remove Confederate leaders, men who fought to preserve slavery.
But it quickly turned into violent attempts to destroy all American statues, including figures who fought to end slavery.
Activists discussed online the destruction of a monument that honors Lincoln's Emancipation Proclamation, paid for and erected by freed slaves to honor him and their own actions towards freedom.
And Black Lives Matter leaders are now directing supporters to destroy statues of Jesus and smash in church windows.
The President, in response, vowed to protect these statues and monuments:
President Trump on Wednesday vowed to protect statues as some activists are calling for the toppling of monuments to former presidents, controversial historical figures and even Jesus Christ — after initially just targeting those of Confederate figures.
Now, he is mobilizing U.S. Marshals to bring vandals to justice:
U.S. Marshals have been told they should gear up to defend national monuments across the country, after several of the structures were toppled or vandalized during recent protests, a report said on Wednesday.
Why are Trump's words—and actions—important?
While some Americans supported the removal of Confederate leaders from government property, few are happy with the widespread destruction of historic leaders.
Mobsobs have pulled down statues of Christopher Columbus, George Washington, famous abolitionists, and American heroes.
Leaders of Democrat-run cities refuse to intervene. More often, they encourage violence by agreeing to remove historic monuments.
Many have suggested the trend is not about racism, but erasing our nation heritage—in order to replace it with Marxism. Some have even joked that our statues can only be protected if they are disguised as Karl Marx.
President Trump is appearing to take this threat very seriously. He promised to prosecute vandals with ten years in prison.
The activation of Marshals means he wasn't joking. Federal Marshals can quickly apprehend and prosecute vandals. They have the power to enforce President Trump's executive order.
Key Takeaways:
Protests against racism have devolved into the tearing down of historical statues.
President Trump has vowed to protect national monuments and religious statues.
The U.S. Marshals are mobilizing to protect federal statues and monuments.
Source: Fox News, New York Post