Trump Admits What Would Keep Him From Running In 2024 – Donald Says Only 'A Bad Call From A Doctor' Could Stop Him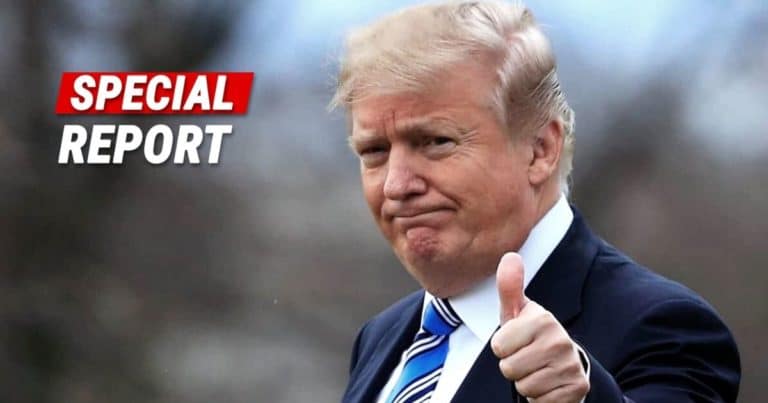 What's Happening:
Over the year, Donald Trump has hinted at his future plans. We can say with certainty that millions of Americans would like to see him come back to the White House. But there are still three years until the 2024 election. There's plenty of time for him to jump into the race.
Recently, we've heard from Trump allies that the 45th president is very close to launching a campaign. But the man himself has been tight-lipped. He has commented whenever people ask him what his plans are.
Now, he is giving the one reason that will keep him from running.
From The Hill:
Former President Trump suggested in an interview Friday night that only a "bad call from a doctor" would prevent him from seeking another White House bid…

"Well, I don't — I guess a bad call from a doctor or something, right?" Trump said on "The Water Cooler" show on Real America's Voice.

"Things happen. Through God, they happen," he added. "But I feel so good."
Donald Trump revealed in a recent interview that the only thing that would prevent him from running would be a "bad call" from a doctor. He seems to be suggesting that only a health problem, diagnosed by a physician.
This strongly suggests that Trump has every intention of running, except for a health scare. Trump is famous for his robust health, despite his age. At 75, many remarks he looks younger and healthier than when he first entered office.
Even while in the White House, his doctors reported he was in good health. That's a far cry from Joe Biden, whom many Americans fear is suffering from serious mental decline (and we haven't seen many health reports from him, otherwise).
Donald Trump has previously said that "outdated" campaign finance rules that prevent him from launching a campaign right now. But he has also been focusing on helping Republicans retake Congress in 2022.
It is possible he is waiting to announce his campaign until after Republicans regain control in D.C. He is waiting to fire up the Trump Train, in order to help his allies. Can't argue with that.
Key Takeaways:
Donald Trump revealed what would stop him from running in 2024.
He said only a "bad call" from a doctor would prevent him from running.
Many have been eager to hear if Trump will run for president again.
Source: The Hill