Trump Lays Down The Law On Mexico, Drops Rock-Solid Border Deadline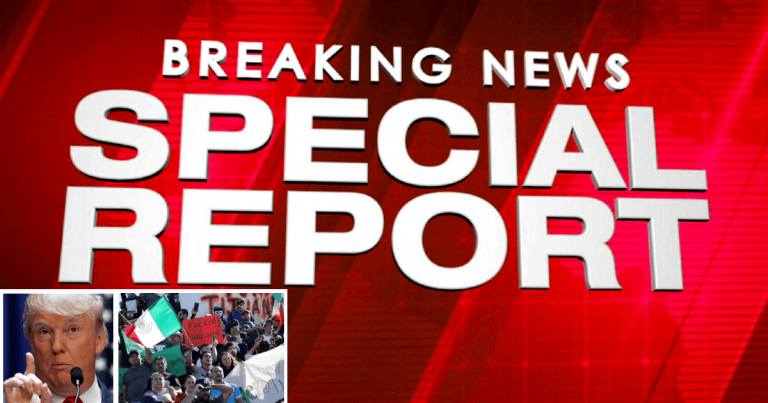 If Mexico crosses his red line, Trump's got 2 big presents for them.
This week, Trump promised to close the Southern border to end the migrant crisis.
Swamp dwellers in Washington panicked, scared that their supply of over-priced avocados would be hurt. And Mexico tried to ignore him.
Trump doubled down on the threat, and now he's laying out the ground rules with Mexico.
They WILL follow his orders – or else they'll be in a world of hurt. From Fox News:
President Trump on Thursday said he was giving Mexico a "one-year warning" to stop the flows of migration and drugs into the U.S., or he would slap tariffs on cars made there and close the southern border.
BOOM – that should get them in line!
Trump promised Mexico huge tariffs and a complete border shutdown if they fail to stop the crisis at the border.
He's giving them a deadline of just a year.
That might seem like a far way off; Trump could have closed the border today. But he's letting Mexico—and the world know—that he means business, and he's giving them a reasonable amount of time to fix it.
Mexico has looked the other way for years as cartels, smugglers, and traffickers left their country for ours.
The current caravan crisis only exists because Mexico is unwilling to stop border jumpers at their Southern border.
If Mexico was truly interested in working with the U.S.—keeping us as an ally—then they would never have let this problem blow up into a crisis.
But it seems like they'd rather have the cartels run their nation instead of the government.
Mexico has one year to get its act together, or serious repercussion will occur.
Do you think they'll do it?
SHARE if you support Trump laying down the law to end the crisis!
Source: Fox News