After Trump's Gets 'Major' Prediction Right – He Drops Presidential Award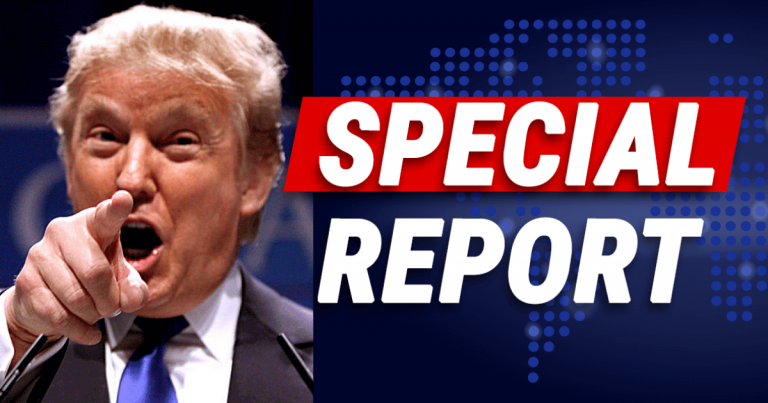 Many said it couldn't be done – so Donald is celebrating in a big way.
You might be wondering how Trump can be so successful, despite the epic amount of opposition he faces.
It's because he's an expert at many things. Deal-making, campaigning, and leadership. Not to mention making American great again.
But it turns out he's also an expert at making predictions, even in his favorite hobby. Last February, he made a big prediction—one that people scoffed at.
And this weekend it came true.
From the Daily Caller:
During an early February round of golf with Jack Nicklaus and Tiger Woods at Trump National Golf Club, President Donald Trump saw something in Woods — who hadn't won a major championship since 2008 — that the rest of the country found out this weekend.
Bold prediction, Donald. What did he say, exactly?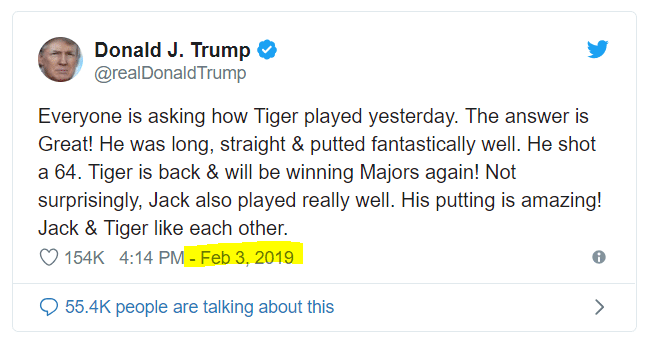 Donald predicted Tiger would go on to win the Masters yet again, even though it had been over a decade and few thought he could again.
Many thought the legendary golfer was done after years of setbacks and challenges. But as you've probably already heard, this Sunday Tiger proved all of them wrong by winning the Masters after 11 years.
Many people don't realize the close relationship Trump has with Tiger. Trump was watching the Masters himself, cheering on his friend.
And now he's dropping a huge honor on his friend Tiger: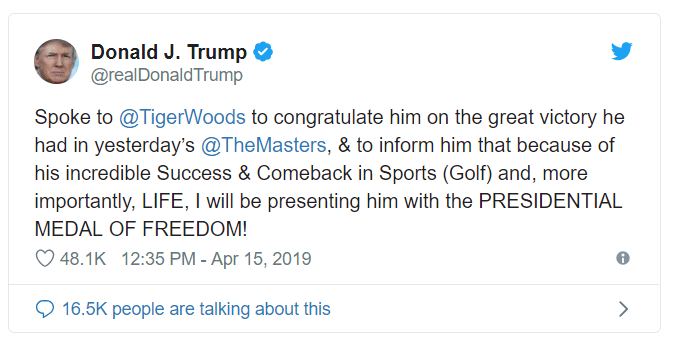 In case you can't read his tweet, Trump will be awarding Tiger Woods with the Presidential Medal of Freedom.
WOW! He's giving Tiger quite an honor for his historic comeback.
It looks like Trump knows how to ally himself with winners. In the business and sports world, he doesn't waste his time with people who can't make it happen.
The same goes for his leadership in the White House. He's been slashing regulation, killing bad trade deals, and picking the very best to get the job done.
That's what he's been doing for over forty years. And in just a few short years in D.C., he's turned America around.
SHARE if you think Trump's a modern-day King Midas: everything he touches turns to gold!
Source: Daily Caller