Trump Makes Massive Day 1 Promise – This Is a Game-Changer for America's Worst Crisis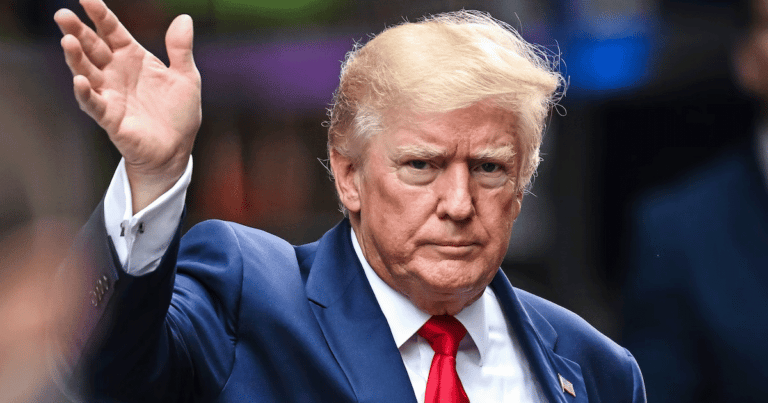 What's Happening:
With the 2024 Election around the corner, Trump has been making his case to the American people. But he'll first need to win over enough Republican voters to secure the nomination. He surprised the country in 2016 by winning the nod. Can he do it again?
Trump has called out Biden's many shocking failures. Biden has gone out of his way to undo Trump's successes, leaving the country in a total mess. Perhaps Joe's biggest failure has put the lives of millions of Americans at risk and worse. Now, Trump is vowing strong measures to set it right, the first day he comes back.
From Breitbart:
Former President Donald Trump, the GOP frontrunner for president in 2024, rolled out a new policy pledge on Tuesday in which he promised if elected he would sign an executive order on day one of his second term in office effectively ending birthright citizenship for illegal aliens and so-called "birth tourism."
Trump vowed that, on the first day of his return to the White House, he'd end birthright citizenship and so-called "birth tourism." For those that don't know, many people come to America illegally, just to have their babies.
The children born in America by illegal aliens are given citizenship by Democrats. Then, these new citizens can exploit the system to bring in many of their illegal immigrant family members. It is what is often called "birth tourism."
But Trump is promising to bring it to an end. He is going to sign an order that will deny citizenship to children born in America if their parents are illegal aliens.
This could cause a massive ripple effect in illegal immigration. People enter the U.S. illegally because they are promised a number of things by Democrats. One of them is the promise that their children will be made citizens.
But if that is taken away, many will lose an incentive to risk their lives, break the law, and partner with smugglers to get here.
It's pretty shocking that we don't already have measures like this in place. Joe Biden has seemingly done everything he can to welcome outsiders into this country. He has refused to let DHS deport anyone. Illegals aren't turned away at the border. They are given smartphones and are released into the country without a court date.
Biden is deliberately trying to create a worse border crisis, to benefit Democrats. Only when he is removed from office will this crisis end.
Key Takeaways:
Donald Trump vowed to end birthright citizens on his first day back in office.
He will sign an order ending this policy, also bringing to an end "birth tourism."
Under Joe Biden, the U.S. border has been overrun by illegal aliens.
Source: Breitbart