Trump's Mexico Deal Isn't Done Yet – Donald's Got An Ace Up His Sleeve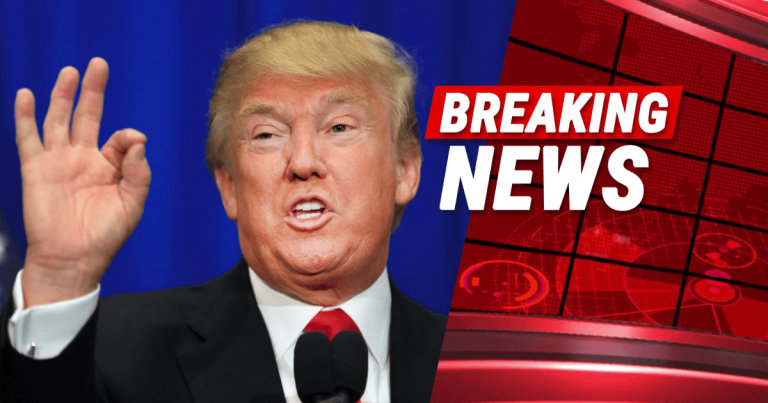 Democrats thought it was bad enough – it's about to get a whole lot worse.
When Trump warned Mexico with tariffs, we thought it was just about the border.
But it looks like the president scored a bigger deal with Mexico than we thought. Talk about a deal-maker!
Donald is already getting major concessions from Mexico, but now he has a big ace up his sleeve he's driving Democrats crazy with it.
From Twitter: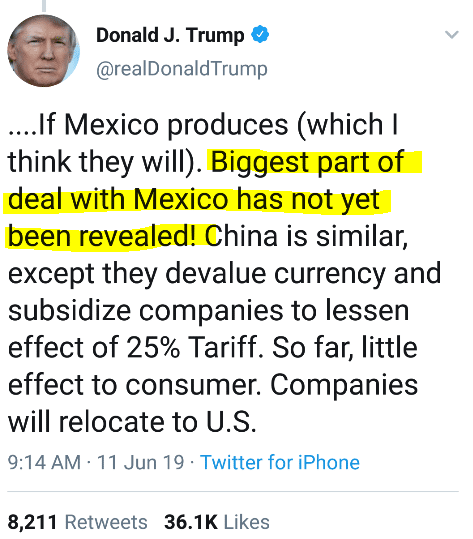 "Biggest part of deal with Mexico has not yet been revealed! China is similar, except they devalue currency and subsidize companies to lessen effect of 25% Tariff. So far, little effect to consumer. Companies will relocate to U.S."
Oh man, Trump is making Democrats nervous with this!
President Trump tweeted about the biggest part of the Mexico deal hasn't even been revealed yet.
We know Donald landed a fantastic agreement with the country. Mexico, to avoid steep tariffs, is setting up their enforcement of the border in a big way. And it's waiting to be passed by the Mexico government.
But apparently, there was plenty more agreed to than just that! Trump mentioned Chinese tariffs and trade while discussing the Mexico deal.
Does this mean he landed a major agreement that will mean more jobs in the U.S.?
He ends the tweet with: "Companies will relocate to U.S."
We know plenty of Americans companies shipped jobs to Mexico over the years. Thanks to previous bad trade deals, other companies built factories in Mexico to sell products in the U.S.
Perhaps now that's all about to change. This new deal might secure more work for Americans. It could further score major wins for our economy.
We won't know the specifics until the deal is officially announced. But there is good reason to get excited.
SHARE to thank President Trump for scoring this huge border deal!
Source: Twitter