Trump Mocks Biden in Hilarious Rally Video – Donald Mimics Joe Getting Lost on Stage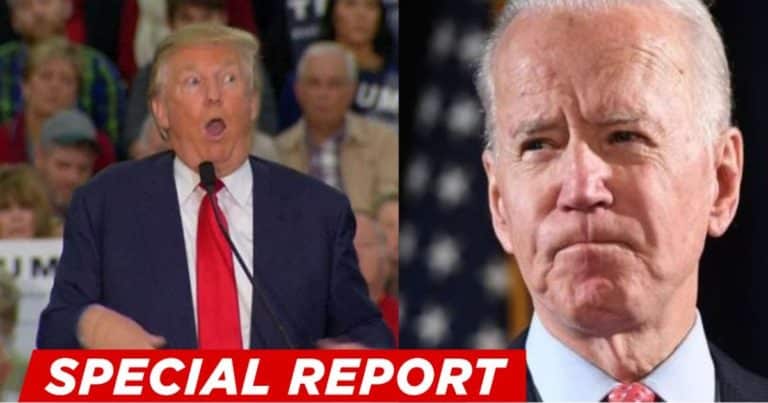 Former President Donald Trump is already on the campaign trail, and recent polls show a surge in popularity.
Trump and Florida Governor Ron DeSantis used to be neck-and-neck in Republican surveys but over the past few months, Trump has taken a commanding lead (though DeSantis has yet to officially announce a run).
And Trump is never afraid to stick it to his opponents — that includes the current aging President, Joe Biden.
Biden, 81, just launched his re-election campaign this past week, amid falling support according to a variety of polls. Even a fair percentage of Democrat voters would prefer a different candidate for 2024.
Age is definitely a concern for many voters, and Trump recently said "something's wrong" in regards to Biden's mental fitness.
During a New Hampshire rally, Trump got the crowd roaring with laughter when he imitated Biden's often confused nature on the stage:
Donald Trump imitates Joe Biden getting lost on stage 🤣 pic.twitter.com/5l29RS0rcc

— ALX 🇺🇸 (@alx) April 27, 2023
You would think at least one time he'd get up and say, 'I'm running for president — where, where am I going, where the hell am I going.'

'I want to get out, oh, no over there, over there.'
The crowd laughed and applauded wildly and after the imitation, Trump directly referenced Biden's new campaign video.
In that video, the President accused "MAGA" Republicans of being a threat to democracy (a common refrain among leftists these days). Trump said the video "supposedly took seven takes to get it right, if 'right' is what you want to call it."
Trump isn't exactly young, either, and a lot of Americans definitely want a younger individual to lead the country.
However, at least Trump would likely still pass a cognitive test, which he took when he was in office, and which Biden still refuses to take. Former White House physician Ronny Jackson demanded Biden take that test, or drop out of the race.
For the time being, Biden's only official competition is Robert F. Kennedy Jr. and Marianne Williamson, though neither is expected to challenge Biden for the nomination.
As for the GOP side, most see it coming down to Trump and DeSantis, if the Sunshine State leader does choose to run.
But no matter what, the age issue will remain a major concern in regards to Biden's capability. And that concern will undoubtedly be highlighted when the 2024 campaign kicks into high gear.
Key Takeaways:
Former President Donald Trump mocked Joe Biden during a New Hampshire rally.
Trump pretended to be lost and confused on stage; "I want to get out, oh, no over there, over there…"
Many worry about Biden's mental fitness, and the fact that he'd be 86 by the end of his second term.
Source: The Daily Caller