Trump Proves Democrat Naysayers Wrong – Completes 'Everest' Deal, Plans His Trip To China
The year is almost over, but Trump had one big gift for 2019!
Democrats have been trying to invalidate Trump's presidency from the beginning. First, called themselves the "resistance."
They tried to foil every last Trump policy with endless lawsuits. Then, when they got the House, they pushed their bogus impeachment.
They said Trump was all talk, no action. Liberals claimed the man who literally wrote the book on deal-making couldn't get deals done for America.
I guess they were all talk. Because Trump did the impossible by landing his biggest deal yet.
And it's all for the American people.
From The Hill: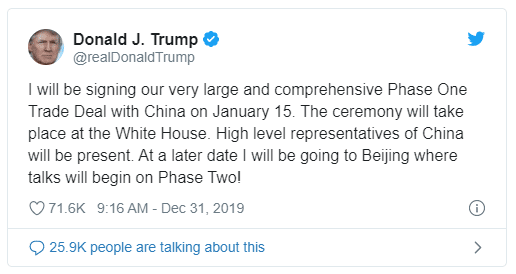 President Trump said Tuesday he will sign a phase one trade deal between the U.S. and China on Jan. 15 at a White House ceremony…

The president added that he plans to travel to Beijing "at a later date" to begin discussions on a second trade deal with China that addresses broader structural topics not included in phase one.
Boom! After months of trade tariffs and "expert" predictions of doom and gloom, Trump announced he's soon to sign the phase one trade deal with China.
You might remember how the fake news pundits said Trump would spark a recession over his Chinese tariffs. They were so negative, it almost seemed like they cared about China more than America.
Hmm… perhaps that's closer to the truth than they'd like to admit.
They all said it would backfire on Trump. I guess all these economic experts don't know a thing about the economy and trade.
Why do they collect those fat paychecks from the news?
Donald Trump announced that not only will he sign this new deal with China, but he will be headed there soon.
Trump will be in Beijing personally to work out the next big phase of the trade deal. Phase Two will address "broader structural" topics.
This is a huge win for this country.
For years, our leaders have all but bowed to China. They did nothing as jobs bleed overseas.
Only Donald Trump has fought to bring jobs back to the U.S. and make sure China did not have an unfair advantage.
And look at that? China was willing to cooperate! Amazing what's possible, when you don't have a crook in the White House!
SHARE to thank President Trump for getting us a great deal for 2020!
Source: The Hill