Trump Strikes Back At Obama And Biden – Accuses Them Of Getting Caught, "But Nothing"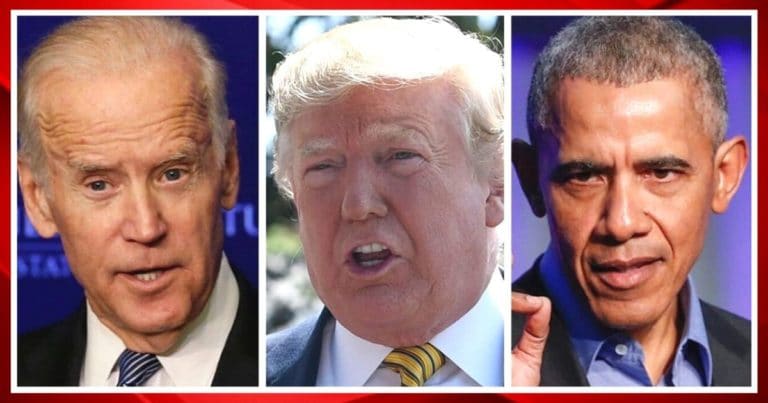 What's Happening:
President Trump has long called out the Obama administration for their role in monitoring his 2016 campaign.
Every so often, new details emerge that appear to link even Obama and Biden to this "Obamagate" scandal. Trump, for his part, is calling it an apparent double standard in D.C.
More information has come out suggesting the former president and vice president might have been involved in the deep state's efforts to undermine the Trump administration.
President Trump accuses them of getting caught, then laments "but nothing" is happening:
"We know what took place. We have already seen criminality. What is happening? Biggest political scandal of our time." @MariaBartiromo You are 100% correct, Maria, it is a disgrace that nothing happens. Obama and Biden spied on my campaign, AND GOT CAUGHT…BUT NOTHING!
Our Take:
Since the 2016 Election, plenty of information has come out that suggests agents within the Obama administration was trying to interfere with the outcome of the election. FBI agent Stzrok spoke of an "insurance plan" to keep Trump out of office—even if he won.
We learned that the FBI and DOJ were surveilling Carter Page's emails. There are even reports that the deep state was trying to set up Trump campaign officials, in order to catch them conspiring with Russia.
Ever since the election, the liberal media has hyped up the Russian collusion story, a narrative that was debunked by Mueller's investigation. Yet they have been all but silent about supposed efforts by Obama to take down Michael Flynn, Trump, and other allies.
President Trump is calling out this apparent double standard. After all, Congress impeached him over a single phone call. Yet more dirt comes out each day about Biden and other top Obama officials. And there appears to be little action from Washington.
Today, Joe Biden seeks the White House for himself. He will most likely gain the Democratic nomination and be on the November ticket. Yet he might have been involved in illegal activity against Donald Trump's campaign and his incoming administration.
Shouldn't there be consequences for those actions? We know millions of Trump supporters think so. Yet there is no movement to look into it from the Democrat-run House.
Key Takeaways:
President Trump calls out a double standard over spying on his 2016 campaign.
He claims Obama and Biden have faced no penalties for what they allegedly did.
This comes after Democrats continue to go after the Trump administration.
Source: Twitter