Hours After President Trump's Order, Federal Court Charges 4 Men Over Washington Statue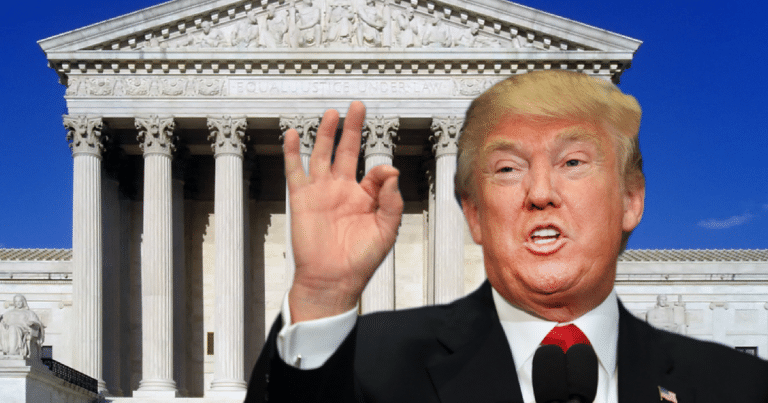 What's Happening:
In the aftermath of riots over the death of George Floyd, protesters have taken to tearing down historic statues. Rioters across the country (in Democrat-run states) have vandalized, torn down, or destroyed statues of famous American leaders.
President Trump made it clear he would not allow this destruction of our history. He signed an executive order instructing the DOJ to prosecute those who destroy federal property. Now, the DOJ is announcing a major development:
Lee Michael Cantrell, 47, of Virginia; Connor Matthew Judd, 20, of Washington, D.C.; Ryan Lane, 37, of Maryland; and Graham Lloyd, 37, of Maine, were charged by criminal complaint yesterday with destruction of federal property…

The four men along with other unidentified individuals, damaged and attempted to tear down the statue depicting Andrew Jackson located in Lafayette Square.
President Trump posted wanted fliers online over the weekend of people wanted in connection with the attack on the Jackson statue.
The president had warned vandals that they'd be faced with up to ten years for trying to destroy federal property.
Trump has long maintained his stance as being against the destruction of any American statue. His words from years ago have been fulfilled, as more than just Confederate statues have been targeted.
Trump made it clear he would not tolerate attempts at destroying our national identity:
Numerous people arrested in D.C. for the disgraceful vandalism, in Lafayette Park, of the magnificent Statue of Andrew Jackson, in addition to the exterior defacing of St. John's Church across the street. 10 years in prison under the Veteran's Memorial Preservation Act. Beware!
Our Take:
Some conservative critics believed he was moving too slow to confront this crisis. But the president has been vocal from the start, calling on state and local leaders to enforce the law.
When it became clear that some (blue) states refused to respond, he acted.
The administration has mobilized U.S. Marshals as well as federal forces to protect American monuments. And the DOJ is prosecuting suspects connected to the attack in D.C.
Key Takeaways:
President Trump signed an EO enforcing the protection of federal statues and monuments.
The DOJ has announced they are prosecuting four individuals for the attack on the Jackson statue.
President Trump had previously warned that vandals would face up to 10 years in prison.