Trump Turns The Tables On Pelosi In Rally Speech – Donald Says "Nutjob" Nancy's Power Grab Could Turn America Socialist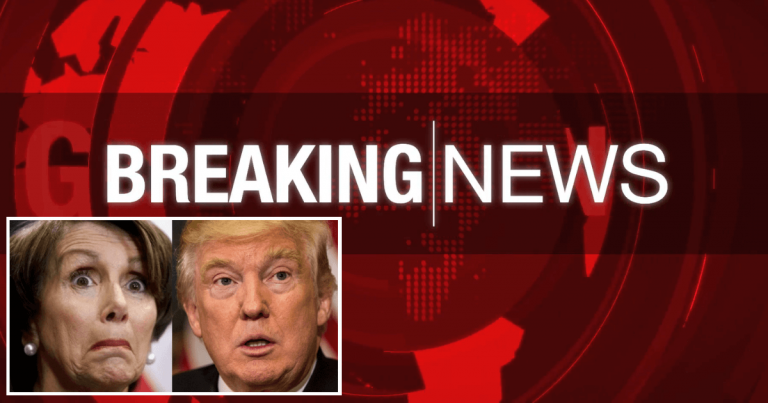 As Democrats and Republicans battle over the $3.5 trillion infrastructure bill, many Americans continue to worry about the price tag. They're also concerned about what's in the sweeping legislation.
That includes former President Donald Trump, who has spoken out against the bill from the beginning. Along with many other Republican leaders, he thinks it's just another Democrat "power grab."
And in a recent fiery speech, Trump absolutely shredded the left.
During a rally in Des Moines, Iowa, the former POTUS called out House Speaker Nancy Pelosi and her fellow liberal politicians for pushing a bill that he believes could cripple the entire country.
In vintage Trump fashion, he didn't mince words — he bluntly condemned the entire legislation, and issued a few dire warnings as well.
On the flip side, Democrats will continue to try to ram the bill through, claiming it holds essential items that will benefit the nation (even if they're not technically under the "infrastructure" umbrella).
Trump isn't about to stay silent, however.
Via The Daily Caller:
What they are going to do by passing this thing that's going to kill our nation.

All Americans of common sense — Republican, Democrat, and independent — must stand firm and you must really stand strong and firm against Biden, crazy Nancy Pelosi.

She's a nut job. And the extreme power grab.
Trump added that citizens "must declare in one united voice that we cannot allow America to become a socialist country."
He even went a step further, saying that in fact, the U.S. is "going to be a communist country" if Democrats get their way. Then he firmly stated that American voters "will never allow it to happen."
As for the bill itself, the former Commander-in-Chief slammed its contents, and highlighted many of the items Republicans don't want:
The Democrat bill, contains billions and billions of dollars for unlawful government training programs inspired by toxic and bigoted, Critical Race Theory.

It's crammed with so-called equity provisions. You know what equity means? It means we will take it away from you and give it to other people.

This bill is a sinister combination of job killing tax hikes and woke fascism that will destroy our nation.
Trump noted that "equity" is really just another word for "illegal government discrimination," and it's infecting every facet of society, from education to our military.
To many conservatives and Trump supporters, they agree with this assessment, and are pushing back against government overreach.
That's exactly what this bill is doing, as far as many citizens are concerned. They feel their individual rights are being threatened on a daily basis.
And Trump echoed these sentiments, saying the legislation gives the IRS "the power to destroy people like they tried to do with the Tea Party, Christian organizations, and just like they have done to me."
Our last President wasn't afraid to blame certain GOP leaders, too.
He pointed the finger at Senate Minority Leader Mitch McConnell for agreeing to raise the debt ceiling, for instance. And he has criticized McConnell for not taking strong enough stances in the past.
Lastly, Trump attacked the infrastructure bill itself by saying it's not correctly named:
It is 9% infrastructure. The rest is Green New Deal garbage that you might as well just throw it out, put it in the wastepaper basket…

…trillions and trillions and trillions of dollars — more than anybody's ever conceived of, most of it for junk programs that will only hurt our country.
Key Takeaways:
Former President Donald Trump ripped House Speaker Nancy Pelosi and Democrats for their "extreme power grab."
Trump said the $3.5T infrastructure bill is only "9% infrastructure" and the rest is just "Green New Deal garbage."
He warned that Democrats are trying to turn America into a socialist country. In fact, they might go a step further toward communism.
Source: The Daily Caller