Trump And Pence Might Be On The Verge – Republican Insiders Say Their "Awkward Peace" Could End Soon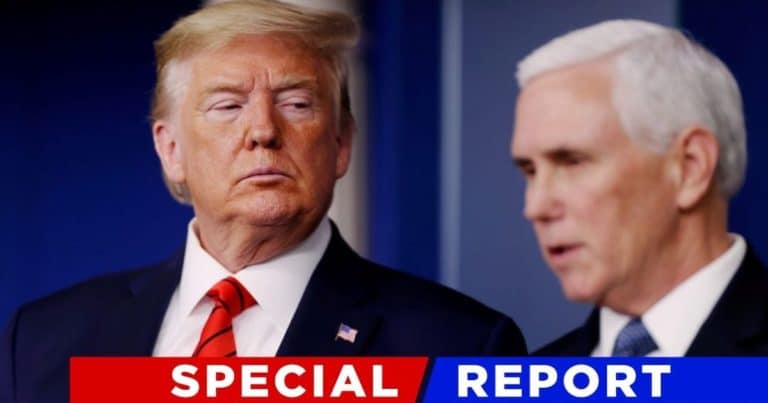 Donald Trump and Mike Pence were very popular among right-wing voters during Trump's White House term. Many frequently lauded the Vice President for so often defending POTUS.
But in 2021, things have felt a little different. While support for the former President remains high, it appears as if Pence has been losing Republican and Conservative fans.
And that could lead to a big split in the near future.
It started after the presidential election ended, when Trump slammed Pence for not having the "courage" to halt the Electoral College count. Of course, that ended up going in Biden's favor.
Then after the January 6 incident in Washington D.C., Pence admitted he didn't see "eye to eye" with the former President on that issue.
In recent months, support for Pence has continued to cool — it feels like if you remain loyal to Trump, you might have already abandoned Pence. And you don't want him back in the White House.
That's precisely why the former tandem might not team up again (via Washington Examiner):
Former President Donald Trump and former Vice President Mike Pence keep telling people they're maintaining a 'good relationship.'

Yet Republican insiders see their awkward peace ending if both launch 2024 presidential campaigns.
Trump recently stated that he and Pence are still on good terms, and said Mike is a "very fine person and a fine man."
However, insiders are saying this won't lead to a reunion for a 2024 bid. Instead, many assume Trump would select a new running mate; Florida Governor Ron DeSantis might be the front-runner.
On top of that, a new poll showed that while almost half of Republican voters want Trump to run again in 2024, only 13 percent want Pence as the nominee:
2024 National Republican Primary:

Trump 48%
Pence 13%
DeSantis 8%
Trump Jr. 7%
Romney 4%
Haley 4%
Cruz 4%
Tim Scott 2%
Rubio 1%
Noem 1%
Pompeo 1%
Cheney 1%
Hawley 0%
Hogan 0%
Rick Scott 0%

.@MorningConsult/@politico, 982 RV, 5/14-17https://t.co/Vcj0lGMiRD

— Political Polls (@Politics_Polls) May 19, 2021
Pence's flagging support among right-wing citizens in the country is most likely behind these rumors. Right now, it doesn't look like a good PR move for Trump to select Pence again.
Even so, Donald isn't "burning any bridges at this point," a former Trump administration official told the Examiner.
The former President also hasn't confirmed that he'll run again. But if he does, a betting man might say he'll go with DeSantis or perhaps South Dakota Governor Kirsti Noem.
Pence could be out entirely — unless he decides to run for President himself.
Key Takeaways:
GOP insiders say Donald Trump and Mike Pence might be going their separate ways.
Increasing tension between the two in 2021 could lead to Trump selecting a new running mate for 2024 (if Donald decides to run again).
A recent poll shows strong support for Trump among Republicans, but very low support for Pence.
Source: Washington Examiner