Trump Responds To Pete Dropping Out – He Accuses Democrats Of Staging A Bernie Betrayal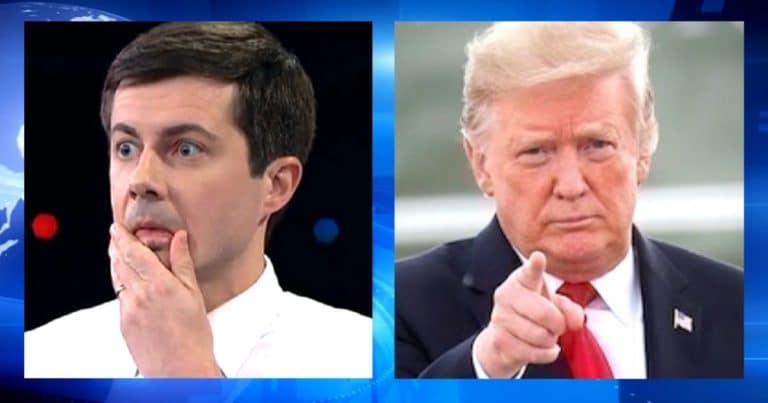 They're dropping like flies!
In just the past few days, the Democrat field for the presidential nomination shrunk big time.
Tom Steyer decided even he didn't have the financial means to compete with the likes of Mike Bloomberg.
And Amy Klobuchar bowed out as well.
But it looks like President Donald Trump finds even more significance in Pete Buttigieg quitting.
The South Bend, Indiana mayor ended his presidential campaign over the weekend, and Trump believes it's a sign…
A sign that Democrats are zeroing in on Bernie!
Trump took to Twitter and said: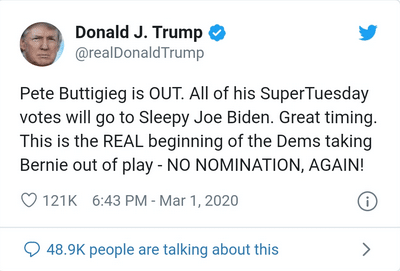 Pete Buttigieg is OUT. All of his SuperTuesday votes will to Sleepy Joe Biden. Great timing.

This is the REAL beginning of the Dems taking Bernie out of play – NO NOMINATION, AGAIN!
Our President is saying what many are thinking:
That Bernie Sanders is going to get squeezed out again — just like he was back in 2016, when Democrats gave the nomination to Hillary Clinton.
And Trump might have good reason for believing this.
Buttigieg leaving could hurt Sanders, because now more moderate candidates might get a boost. This could include former Vice President Joe Biden.
Biden, who has been trailing Sanders in recent weeks, got a big win in the South Carolina primary.
Before that primary, Bernie's delegate lead over Biden was 30 … now it's just 8.
Furthermore, with Buttigieg, Steyer, and Klobuchar all out, America is starting to realize that we're entering crunch time.
The Democrats have to pick someone and time is running short. And with Sanders and socialism staring us in the face, how many are willing to go that route…?
My guess is NOT MANY!
As a result, Biden appears to be charging back to the forefront. And maybe this is what Democrats wanted all along.
SHARE if you think Bernie Sanders' chances just took a BIG hit!
Source: Fox News