Days After Trump's Tulsa Rally, Donald Bounces Back With Packed-Out Event For Young Arizona Voters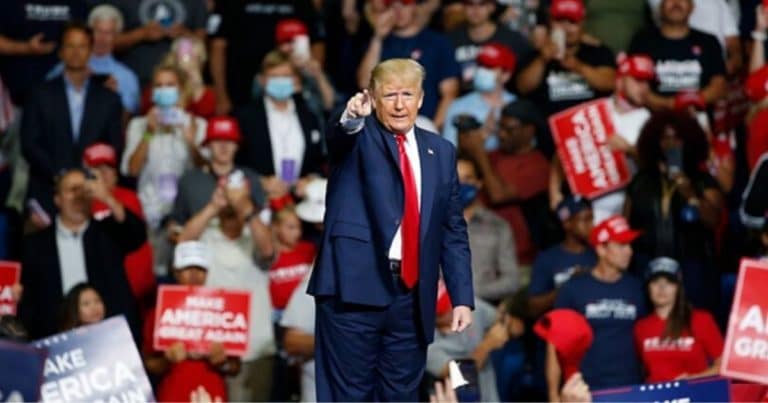 Democrats made a big deal over Trump's comeback rally in Tulsa, OK. They pointed to the fact that, although 6,000 people made it inside, the venue was not packed as usual.
The media dismissed concerns that the virus kept people at home. They also ignored the massive streaming numbers of the event.
But the president was quick to bounce back just days later when he attended an event in Arizona:
President Donald Trump rocked a packed house of young supporters at a church in Phoenix, Arizona, on Tuesday, condemning the rise of the radical left…

Students for Trump and Turning Point Action teamed up to rent the Dream City Church in North Phoenix, which holds about 3,000 people.
Why is a "smaller" event of 3,000 so important to the 2020 election?
In the run-up to Trump's comeback rally, the media spread messages of doom and gloom. Democrats who just a week earlier encouraged protests, were now saying anyone who attended Trump's rally was going to spread COVID.
Surprisingly, nobody complained about this rally—which featured a packed-out venue of young supporters. Turning Point and Students for Trump organized the event—two groups that reach out to young voters for the president.
They were able to fill a local church that holds around 3,000 people. The attendees were all college-aged students, all eager to see the hear the president.
What did he talk about?
The president shared a fiery message condemning the radical left for acts of looting, violence, and vandalism in America's major cities while demanding absolute conformity to their message.
Democrats should take notice of this event. President Trump was cheered, with numerous standing ovations, by a group of college students.
It suggests that enthusiasm for Trump has not waned like the other event may have hinted at. Many of those attending this Arizona event were not old enough to vote for Trump in 2016. This year they are.
If Trump can muster excitement among young people (a group that is rarely engaged during elections), it bodes well for his support across all demographics.
Meanwhile, Joe Biden has yet to hold a large rally in months.
Key Takeaways:
The media made a big deal of the lower-than-expected turnout of Trump's Tulsa rally.
They appear to be ignoring the packed-out event Trump attended this week in Arizona.
The event was attended by college-aged students, all eager to re-elect the president.
Source: Breitbart