Trump Roasts Biden in Swing State Rally – Video Shows Montage of the President's Gaffes in Nevada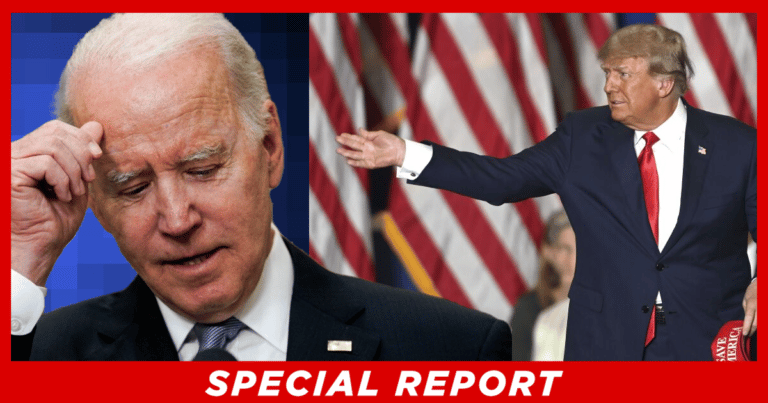 What's Happening:
Everything is on the line this 2022 election season. If Democrats gain more seats in Congress, nothing will stop them from destroying our country.
The left would like very much if you forgot that they put a mindless puppet into the White House. A man who will rubberstamp the very worst plans they are forcing down our throats.
But Trump reminded the entire world of just what's wrong with Biden. And he showcased it during a major Nevada rally.
From Twitter:
Trump played a video compilation of Joe Biden's gaffes at his rally in Nevada, I love this President!
Trump played a video compilation of Joe Biden's gaffes at his rally in Nevada, I love this President! pic.twitter.com/09yCvbBpjE

— Brigitte Gabriel (@ACTBrigitte) October 9, 2022
During a rally in Nevada, Donald Trump showed a video compilation of all of Biden's worst gaffes. Most of them happened recently, while Biden was in the White House.
These are far worse than a few "senior moments." This isn't Biden fumbling a word or two from a teleprompter.
These clips show a man who is losing his mental faculties as we watch. A man that can't even finish a single sentence.
As hilarious as this video is, it's no laughing matter. We are told this man is really in charge.
One of two things is true. First, he isn't in charge and is being told what to do by the DNC. If that is the case, Democrats are trying to control the presidency like a shadow government.
Or worse, Biden really is in charge. And that means a man who cannot talk, walk up the stairs, or remember basic facts is making decisions about our country.
Biden is responsible for a tanked economy, rising energy prices, the open border, chaos overseas, and possibly a war with Russia.
He's managed to undo years of prosperity and success from millions of hard-working Americans.
And the worse is to come if Republicans can't hold this bankrupt presidency in check.
Democrats have refused to acknowledge Biden's declining mental health. They've even scolded reporters who dare ask about Biden's fitness.
But we've all seen these videos before. We know something is very wrong with Joe Biden. And if the Democrats are ignoring it, that means something is very wrong with the entire party.
The stakes of this election couldn't be higher.
Key Takeaways:
Donald Trump played a video of Biden's worst gaffes during a rally.
Biden's mental health has continued to decline since 2020.
The video featured Biden failing to speak, walk, and even remember basic facts.
Source: Twitter