Liberals Claim Trump Silent On Riots – But Video Shows Trump Speaking Out Days Ago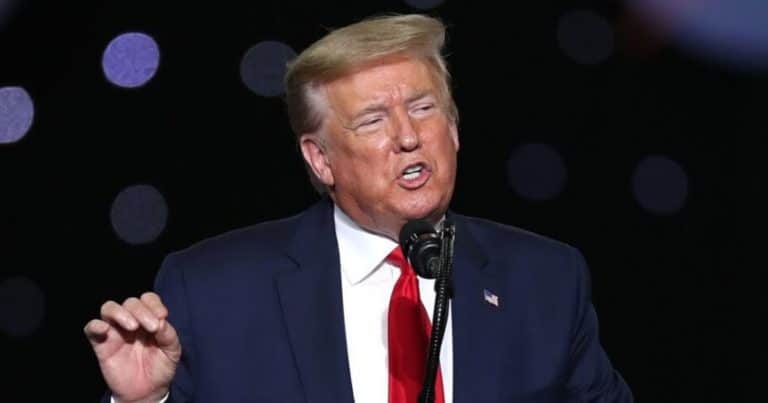 We watched peaceful demonstrations morph into violent riots. Democrats had the gall to say Trump should have done something—claiming he "remained silent."
They even blamed his comments on Twitter for making matters worse. I guess they get to pick and choose what they pay attention to when Trump speaks, huh?
Because they've conveniently overlooked what the president said, during his speech at the NASA launch.
From YouTube:
US President Donald Trump says he will not tolerate mob violence during demonstrations over the death of George Floyd in Minneapolis.

"Radical left criminals, thugs and others all throughout our country and throughout the world will not be allowed to set communities ablaze," he said while speaking in Florida after watching the successful launch of a SpaceX rocket on Saturday.
President Trump took the opportunity to call out the "radical left criminals" who are using the death of George Floyd to spread chaos.
He made it very clear that his administration would not allow these people to "set communities ablaze."
The president promised to restore order and support those hurt by this violence.
Our Take:
People who criticize the president for "inaction" don't even know how our country works.
When crime or unrest breaks out in a city, it's up to the local leaders to act as the first line of defense.
This is the United States of American, after all. Governors and mayors appoint state and local police to keep the peace.
It would be inappropriate for the federal government to overstep its bounds and interfere, at first.
Let's be honest, if the president stepped in too early, Democrats would have accused him of being a dictator!
It's not the president's immediate roll to send in National Guard or troops to quell every riot or violent protest.
Only when it's clear that local leaders can't (or won't) end them, does the federal government step in.
Considering it was only a few days before Trump activated the National Guard proves he wasn't wasting time.
His speech at NASA was only a few days after it was clear that Minnesota's Democrat leadership was unable to do their job.
President Trump has been very clear from the start of two things:
That the federal government will seek justice for George Floyd, and
That he will not tolerate violence against minority communities.
Anyone that says otherwise is blatantly lying.
Compare that to the sea of liberals who claim they "stand" with the black community, but refuse to condemn the violence and looting.
Do they really care about minority Americans, when their neighborhoods, businesses, and churches are destroyed?
SHARE if you, along with President Trump, stand against the violence.
Source: YouTube