Trump Suggests Sinking CNN For Good – By Boycotting Top American Company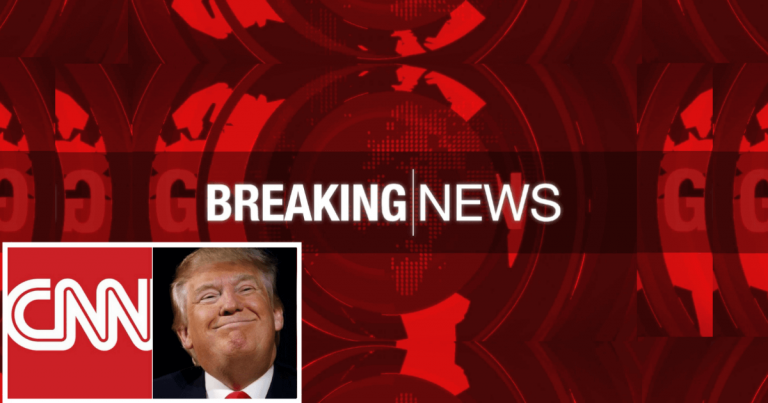 CNN could go down if Americans listened to Donald – and joined together to boycott its parent company.
President Trump is sick and tired of CNN. I know most of you are too.
Normally, he would just not watch it. But when he reached London—it was on wherever he went.
Fake news from CNN is being spread all over the world. And even though they're dropping in the ratings, they still aren't changing their tune.
So, the president's got a sure-fire way of fixing the problem.
From Twitter: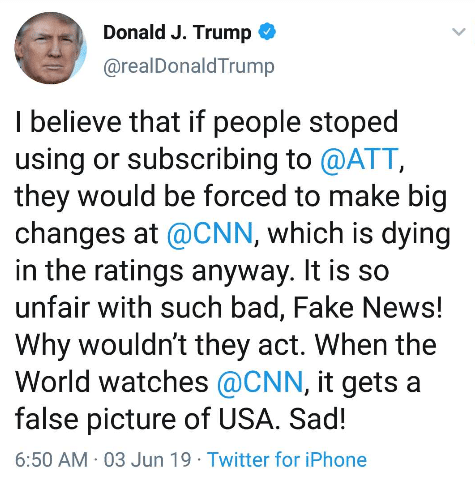 "I believe that if people stopped using or subscribing to @ATT, they would be forced to make big changes at @CNN, which is dying in the ratings anyway. It is so unfair with such bad, Fake News! Why wouldn't they act. When the World watches @CNN, it gets a false picture of USA. Sad!"
Wow. The president is suggesting—in a way—a boycott of AT&T, until they make major changes at CNN.
AT&T owns CNN. They must be upset about CNN's failures—more than anyone else. Ratings (and profits) are dropping at CNN.
How long before AT&T does something to fix the bleeding? They can't possibly like the fact that this "news network" has become a laughing stock.
And that they're spreading lies about the president and country around the world.
Maybe Trump's solution can work. If enough Americans stop using AT&T services, maybe they will wake up and fix CNN.
All they have to do is get rid of Zucker—and the rest of the fake news peddlers. Start reporting on real news and they'll win back American support.
CNN isn't willing to do that on their own. So maybe their parent company can do something.
SHARE if you are going to follow Trump's advice and help take down CNN!

Source: Twitter