Trump Plans To "Steal The Show" – New Campaign Ad Is Here, And It Will Air During Democrat Debates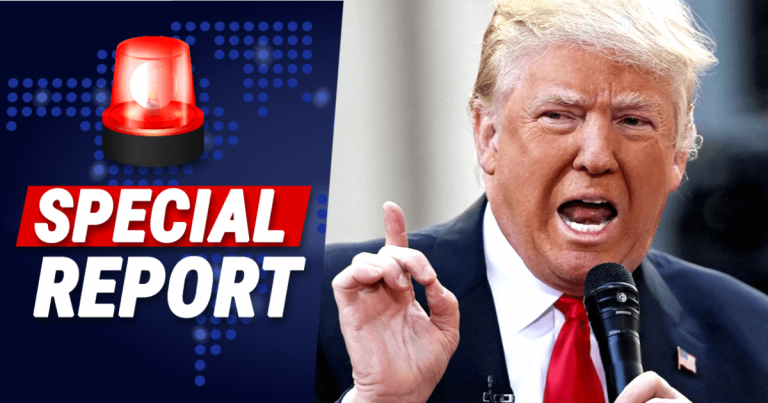 Donald's stealing their thunder tonight – but you can watch it now!
President Trump never misses a chance to stick it to the opposition.
This week, a new round of Democrat debates kicks off, and the arguments will center on the immense healthcare problem facing America.
And many are expecting these candidates to support healthcare for foreigners who aren't legal citizens.
Well, Trump's campaign team is planning to take advantage.
The President's team has an ad that will air during the Democrat debates, and it's designed specifically to counter their socialist policies.
From The Hill:
"The ad shows video from the second night of the first set of debates, when every Democrat on stage, including the front-runner, former Vice President Joe Biden…

…raised their hands when asked whose health care proposals would cover such immigrants."
"'Democrats — radical, reckless, socialist,' the narrator says.

'They're all the same.'"
They ARE all the same, aren't they?
These candidates are all saying essentially the same thing, and none of it puts American citizens first.
Socialists like Bernie Sanders just want Medicare for All, which includes anybody who sets foot in this country. It's insane and irrational, to say the least.
Kamala Harris wants the exact same thing, as she's stated several times in recent months.
Joe Biden only slightly hedges his bets, saying foreigners who aren't citizens shouldn't be eligible for subsidies, but can still get healthcare from Obamacare marketplaces.
In the end, it all sounds the same, and many Americans loathe these ideas.
Expect Trump's ad to post some poll numbers, showing just how many Americans are sick of playing second fiddle to those who are here illegally.
A June CNN poll said 59 percent of Americans were against the "healthcare for non-citizens" idea, for example.
But no matter what stats the ad features, it should be the perfect counter to all these pathetic Democrat ideas!
SHARE if you love Trump's new ad!
Source: The Hill