Trump Supporter Interrupts Nadler Speech – Gets Thrown Out For Demanding Democrat Impeachment To Come To An End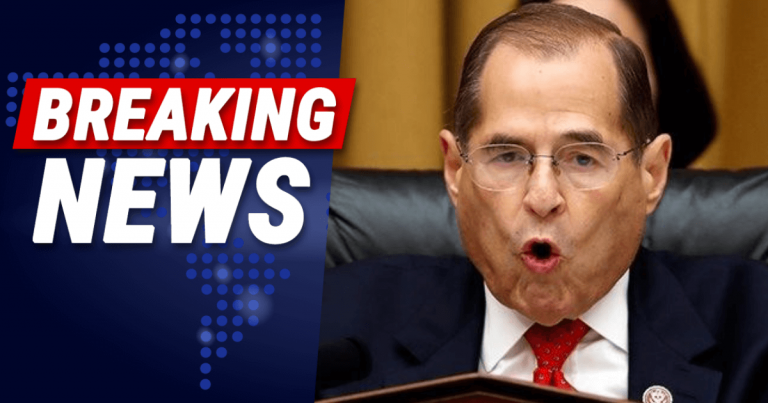 Jerry didn't see this guy coming – he's speaking for Trump supporters!
Americans all over the country are done with the Democrats' neverending impeachment hearings.
First, it was Adam Schiff and his antics. Now, Jerry Nadler is wasting time questioning Democrat staff—as if this was a legitimate process.
Some are now suspecting House Democrats will try to ram through an impeachment vote as early as Christmas.
I guess that's a nice, little gift to the struggling party, huh?
But something happened today that none of them counted on. A man interrupted Nadler's charade to remind Democrats what Americans really feel about this impeachment.
From the Washington Examiner:
Owen Shroyer, an InfoWars host, crashed the Democratic impeachment hearings in front of the House Judiciary Committee and yelled at Chairman Jerrold Nadler that he needed to end the impeachment proceedings against President Trump.

"Trump is innocent," the host shouted at the Monday impeachment hearings. He accused Nadler and the Democrats of "treason" for attempting to impeach Trump.
Owen Shroyer jumped up during Nadler's hearing to shout and protest the left's impeachment sham.
He shouted "Trump is innocent" and accused the Democrats of committing treason.
Quickly, Nadler had the man escorted out of the hall and tried to regain order. But the damage was done.
Shroyer is simply echoing how millions of Americans feel about this impeachment push. Polls show that even independent voters from swing states are sick and tired of this circus.
We've had to put up with endless coverage by the mainstream media, spinning hearsay as fact.
Democrats have done everything but accuse Trump of robbing Santa. Yet few admit that their "evidence" truly condemns the president.
All these public hearings have featured partisan men and women, D.C. swamp dwellers. They give their biased opinion, since they weren't even on the supposed call.
They are hard-pressed to point to anything in the transcript that was impeachable.
And we're supposed to take these hearings seriously?
Nancy Pelosi looks like she's lost it. She's even ranting against CNN reporters. Schiff made up a "parody' transcript of the call. And even Nadler has been caught sleeping at least once during his own hearings.
It seems like even Democrats know the gig is up. But they keep pushing impeachment as if it will work out for them.
Americans are done with these Democrats. And they will let the world know it, come 2020.
SHARE to stand with this man and tell Democrats to shut impeachment down!
Source: Washington Examiner