After Trump Supporter Asks Pelosi For Photo – He Turns The Tables On The Unprepared Speaker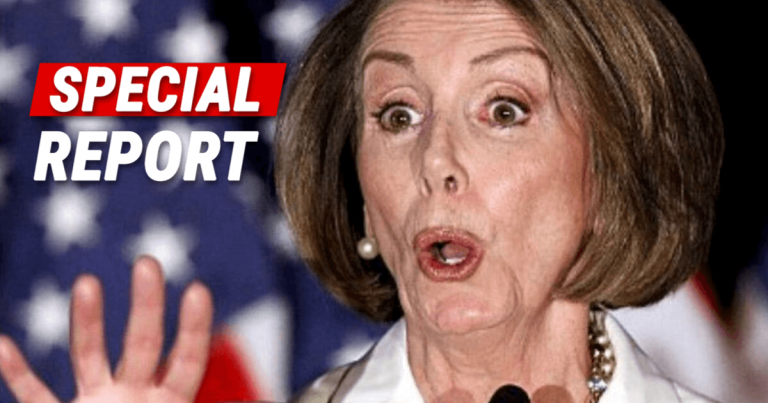 Do you know what we all love to see? Someone burning Nancy Pelosi.
After all, she's done to this country, she deserves it. She pretended to want to work with the Trump administration.
Instead, she wasted all of 2019 obstructing progress and leading a bogus impeachment.
She betrayed the country by flip-flopping on impeachment. On top of that, she contradicted her own words that impeachment should be bipartisan.
While we can't all tell her what we really think of her, one man was able to.
While at a 49ers game, a man asked the Speaker for a selfie. Having her undivided attention, he spoke for all of us.
From Western Journal:
Pelosi cracked a smile as the man reassured her that they are both fans of the 49ers. Then, in a matter of seconds, it all went downhill for her.
Nancy Pelosi, At A 49ers Game, Gets Called Out.

Patriots everywhere need to start confronting these Democrats in non confrontational ways ..

Reminding them of what's coming. pic.twitter.com/HIkgEL3Jfl

— •*¨*•.¸¸✯*・🍃Ꮙ🍃•*¨*•.¸¸✯*¨ (@V_actually) December 28, 2019
"I just want to tell you," the man said, "I don't like what you're doing to California."

You have to hand it to her — in true career politician style, Pelosi never lost her smile. Although the enthusiasm in her eyes practically vanished after she realized she had been tricked, she managed to spit out a half-hearted "thank you" before sitting down.
Wow. It takes guts to walk up to a representative and tell her what a terrible job she's doing.
But this man took the words right out of our mouth.
We all know that San Francisco, part of Pelosi's district, has seen better days. The once-beloved city is now a wasteland.
Much like the rest of the state.
Pelosi and her California Democrats have driven the Golden State into the ground. She pursued wasteful, left-wing policies. While spending a fortune on impeachment.
Meanwhile, the people of California suffer under terrible regulations and high taxes.
Pelosi's reaction is priceless. We really wish she had melted down, but the look on her face is good enough.
She can't show her true colors to this man, not with a camera in his hand. But you see how angered she is from his comment.
How dare he tell her the truth!
Pelosi is like all her liberal elitist friends. She expects us to just sit down and obey her. Never question, never call her out.
When she meets a real American, she appears disgusted.
Sorry, Nance, be we're the ones really disgusted. Disgusted by you and the D.C. swamp.
SHARE to show everyone how Pelosi got burned!
Source: Western Journal