Trump Supporter Receives Major Court Ruling – For Her Anti-Biden Signs, Town Decides To Drop Case Against NJ Resident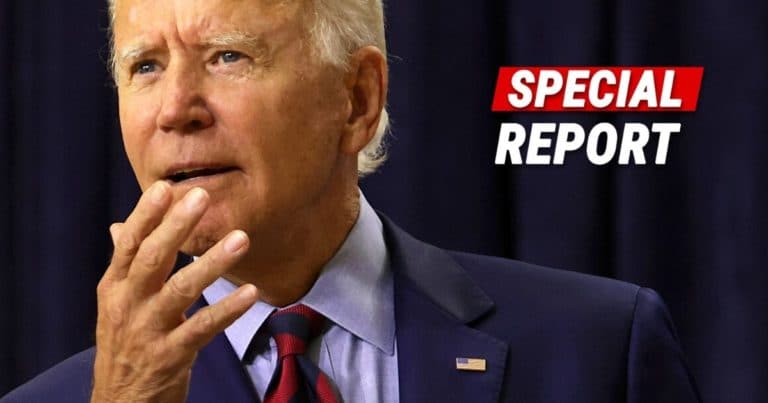 Freedom of speech is part of the foundation of our country. It sits atop of the Constitution and on the surface, it appears like a straightforward right for all citizens.
However, there are millions of Americans who worry that freedom of speech is disappearing. That's  because the "woke" mob and far-left crowd sometimes seem to have different values.
But at least one New Jersey resident can continue to enjoy her right to free speech.
Andrea Dick, a resident of the New Jersey town of Roselle Park, isn't exactly a fan of President Joe Biden. She isn't a big fan of socialism or other liberal policies and ideas, either.
So, like any citizen who practices her American right, she decided to put up some signs on her property.
These signs quickly attracted plenty of attention, primarily because they included profanity, but perhaps also because they were so strongly against the current administration.
Some people complained and the town was about to become embroiled in a costly legal battle. Andrea Dick was also facing a difficult time, and all because she exercised her freedom of speech.
But now, thankfully, the case is finished. From Fox News:
A town in New Jersey has decided to end its effort to have a resident remove various anti-Biden signs from her property, including several that contain profanity.
Dick called the decision "a relief" and she's "just happy this is all over."
Up until now, Dick and her mother were facing a steep fine of $250 per day for having those signs on her property. This included slogans like "F*** Biden," "Joe Biden S***", and "Socialism "S****".
In June, the town issued a violation notice at the property, and then sent over a court summons when Dick refused to remove the signs.
But now, the town has decided they won't pursue the case. This ruling came after the state's ACLU chapter stepped in to support Dick and her case.
Though Municipal Court Judge Gary Bundy ruled the banners violated the town's obscenity laws, the ACLU said differently:
The First Amendment exists specifically to make sure people can express strong opinions on political issues – or any other matter – without fear of punishment by the government.

Today's decision confirms that our position was correct:

Roselle Park had no grounds to issue fines for a political sign and the town's use of its obscenity ordinance infringed upon fundamental rights protected by the First Amendment. It was an uncomplicated case.
Some Trump supporters will recall the last administration, and seeing similar "F*** Trump" signs popping up around the country. And those didn't seem to prompt much backlash.
Once again, it feels like a double standard situation for those who speak out against the party currently in charge.
It's true the town's main gripe was the profanity on the signs, but one wonders if this town – which is in a deep Blue state – would've had the same problem if these were anti-Trump or anti-capitalism signs.
Key Takeaways:
A Roselle Park, NJ resident won her freedom of speech battle against the town.
The town demanded she remove the anti-Biden signs from her property because they included profanity.
But the ACLU stepped in and defended the resident's right to free speech. Then the town dropped the case.
Source: Fox News