After Trump Drops Tariffs On Mexico – Their President Sends Back Strong Response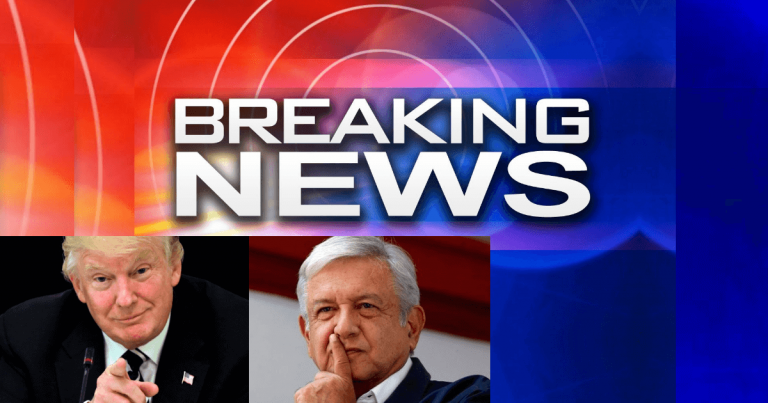 Donald finally played hardball with Mexico – but Democrats never thought their president would respond so quickly.
Mexico went back on their word, so President Trump got tough. Really tough. And he's already getting results.
Instead of helping to stop border crossings, Mexico actually helped border jumpers get to America.
Our President's response?
He hit Mexico with a 5% tariff, which will ramp up to 25% in a few months.
If Mexico doesn't step it up, they are going to get hurt, bad.
Well, it seems like that got their attention. Because the President of Mexico responded.
From Reuters:
In a news conference in the Gulf of Mexico port of Veracruz, President Andres Manuel Lopez Obrador said Mexico could be ready to step up measures to contain a recent surge in migration in order to reach a deal with the United States.
Wow – who says playing hardball doesn't work? President Lopez Obrador announced that his country will actually do more to assist the U.S. in this border crisis.
He made it clear that he doesn't want the U.S. to slam them with heavy tariffs. He signaled Mexico will tighten their security in order to keep those tariffs from passing in the coming week.
Imagine the gall of Mexico. They were letting thousands pass through their country—every day. They called crossing the border a "human right"
And they really thought we'd sit back and do nothing in response!
They thought they could keep making money off trading with us—while they let border crossers flood in?
And Democrats complained Trump made the wrong. He was only going to hurt the Mexican economy and make even more people flood our country.
Actually, this is how a dealmaker makes great deals for America!
It took Trump's tough policy to make Mexico wake up and do the right thing. And he's leaving Democrats speechless as he gets results for us, the American people.
SHARE to thank President Trump for playing hardball with Mexico—and winning!
Source: Reuters