Trump Opens Texas Rally in Epic Fashion: Donald Plays J6 Prison Choir Singing the National Anthem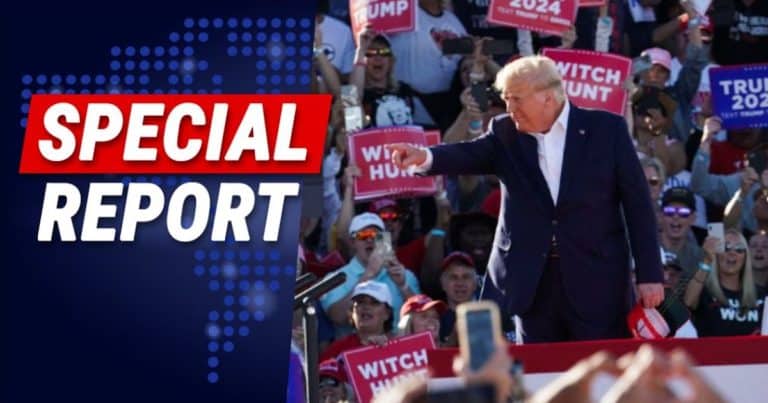 Former President Donald Trump isn't wasting any time — he's already rolling down the campaign trail at full speed.
Having remained highly vocal in the political sphere after being ousted by Joe Biden in 2020, Trump announced another run to the White House earlier this year. And ever since, he's been even more visible.
He just held his first official rally of the 2024 campaign in Texas, and the bombastic businessman kicked it off in epic fashion.
Everyone expected Trump would open the rally with the National Anthem. Being a proud patriot and originator of the "MAGA" slogan, the former POTUS always said he put "America First."
But it was the version of the National Anthem he picked that got a ton of attention across the country.
The crowd reacted enthusiastically, but Trump's choice probably wouldn't go over well with Democrats and liberals. That goes double for anyone who believes Trump is guilty of inciting a riot on January 6.
From Breitbart:
Former President Donald Trump opened up the first rally of his 2024 presidential campaign by playing the hit song 'Justice For All,' which features the 'J6 Prison Choir's' rendition of the National Anthem while Trump recites the Pledge of Allegiance. 

The song was played right after Trump took the stage in Waco, Texas, to chants of 'U.S.A!' as audience members held signs reading 'Witch Hunt' and 'Trump 2024.'
JUST NOW: President Trump plays J6 Prison Choir song "Justice for All" to open rally in Waco, Texas pic.twitter.com/bimWk83E7e

— RSBN 🇺🇸 (@RSBNetwork) March 25, 2023
If you're unfamiliar, the J6 choir is comprised entirely of January 6 prisoners, and they reportedly sing the Star-Spangled Banner every night.
That recorded audio was then mixed with Trump reciting the Pledge of Allegiance, and Forbes claims "a major recording artist" was behind the song's production (though we don't know exactly who).
A former top official in the Trump administration, Kash Patel, helped with the original song, and he said:
We basically broke the music industry is what we did here, because we put America First values back front and center.

And we said we're going to use free speech platforms like Truth Social and Rumble, and then we're going to debut a song that speaks to what's on so many Americans' minds.
Most would assume that a song made by a bunch of prisoners wouldn't perform especially well on the charts, especially when up against the popular artists of the day.
However – and this undoubtedly grinds the gears of liberals everywhere – "Justice For All" by the J6 Choir has gained stunning popularity.
In fact, it hit #1 on the Billboard's Digital Song Sales chart last week, and it went to the top of the iTunes chart before being removed. A senior Apple executive called the move a "miscommunication."
But if Patel hadn't pushed to get the song back, many believe Apple would've just kept the song off their platform.
The former POTUS has maintained his innocence since the January 6 mess, and he hasn't backed down. He also hasn't backed away from his claims of a "stolen" 2020 election, though some Republican leaders wish he would.
Either way, Trump is off and running and he's certainly not going to change his approach.
Key Takeaways:
Former President Donald Trump started his Texas rally by reciting the Pledge of Allegiance, mixed with the J6 Choir's rendition of the National Anthem.
Former Trump official Kash Patel helped develop the song, and said they "put America First values back front and center."
The song hit #1 on a few charts last week, including the Billboard's Digital Song Sales.
Source: Breitbart