Days After Trump Gets Tough On Biden – New 2020 Poll Shows Donald Stealing The Lead From Biden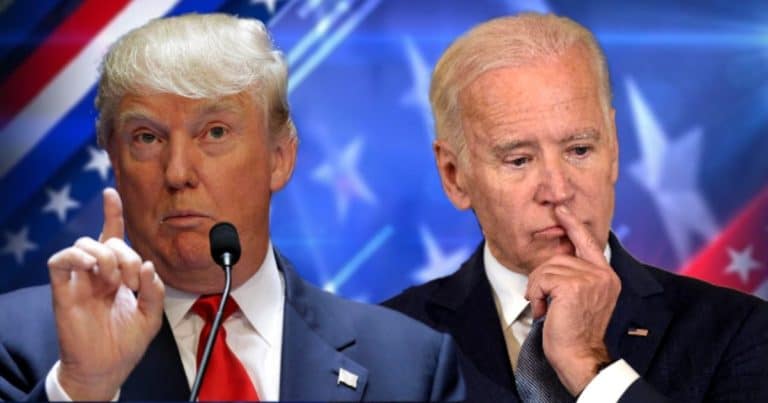 What's Happening:
Early in the election cycle, the media spent considerable time trumpeting polls that gave Biden a massive lead.
Despite doing no campaigning and showing little leadership during the pandemic, the media claimed Biden would win in November.
But it appears things have been rapidly changing in recent months. And a new poll must have Democrats panicking:
A new poll released this weekend shows President Donald Trump, the incumbent GOP president, has taken a national and battleground states lead over his Democrat challenger presumptive nominee former Vice President Joe Biden.

The survey, from the Democracy Institute commissioned by the Sunday Express newspaper, shows Trump leading Biden 48 percent to 46 percent. What's more, Trump has opened up a bigger lead according to this poll in the crucial battleground states, meaning the president by this pollster's estimates currently is projected to win 309 electoral votes—more than he did in 2016.
A new poll from Democracy Institute reveals Trump has a lead over Biden in a national survey as well as in crucial battleground states.
The poll even predicts Trump will win 309 electoral votes, more than he won in 2016.
While polls aren't a "crystal ball" that can prove the results of the election (re: 2016), this massive shift from earlier in the year cannot be ignored.
What could account for such a change in polling? It's obvious when you think about it.
Since the Spring, Americans have watched Democrats embrace radical protests, crime, and the "defund the police" movement.
After forcing Americans to be shut up in their homes for months, Democrats looked the other way as activists rioted in the streets and destroyed property (not to mention tear down statues and set up "autonomous zones").
Even Joe Biden appears on the side of the radical left. He said he agreed that funding should be taken from police departments. He even said cops have "become the enemy."
It seems Americans, even from blue states, have watched Democrats encourage lawlessness and crime. Even now, many Democrat mayors, governors, and city councils vote on stripping cops of their power.
Meanwhile, crime is surging in major cities and—in places like Seattle and Portland—radical anarchists continue to do harm.
The only leader willing to do the tough job and end the chaos? Donald Trump.
Add to that the fact Joe Biden continues to hide from the public. He refuses to reveal his running mate and some say he might ditch the debates.
Videos that reveal he might be suffering mental decline continue to pile up. And Trump's campaign has no qualms about showing that to viewers in new ads.
Polls might shift again (judging the left, they will), but this one poll seems to reveal what is really going on.
Key Takeaways:
After Spring polls predicted a Biden win, a new poll has Trump leading nationally and in states.
The poll predicts Trump will win by an electoral landslide.
This comes after months of unrest in blue cities, with Democrats calling for the defunding of police.
Source: Breitbart