Trump Tweeted Only Once During Last Democrat Debate – Shows His Plan For A 2020 Landslide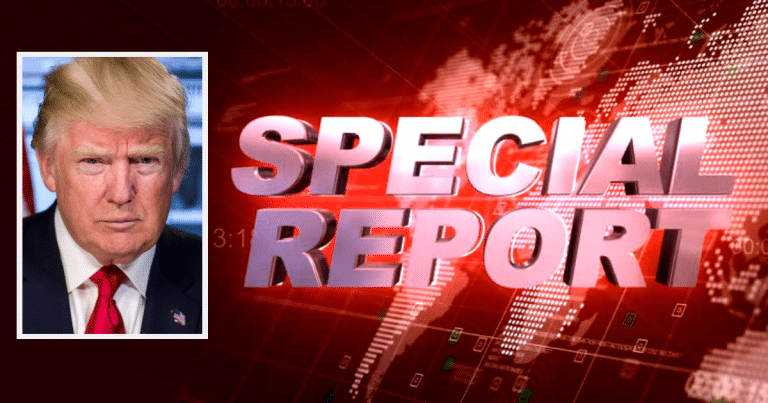 Donald flashed his gameplan to America – but it's not going to help his Democrat rivals one bit.
President Trump is doing his job this week, attending the G20 summit in Japan. Meanwhile, back at home, we had to suffer through liberals bickering on stage.
While away, Trump was far too busy to comment much on the circus going on here. The first time he simply called it "boring" and spent time meeting with our servicemen and women.
The second time, he only commented once. And he utterly torched the 2020 socialists who want to be POTUS.
It came when all of them raised their hands for giving healthcare—government-funded healthcare—to non-Americans.
From Daily Wire:
That moment inspired the only tweet President Trump issued in response to the Democratic Party's big frontrunner debate.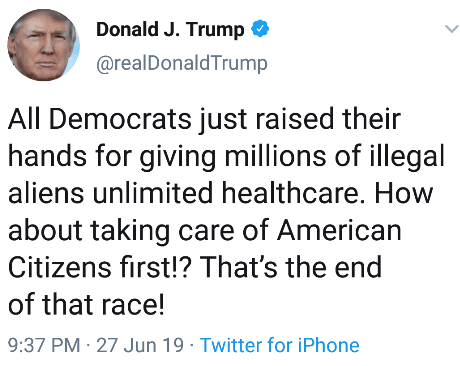 "All Democrats just raised their hands for giving millions of illegal aliens unlimited healthcare. How about taking care of American Citizens first!?" wrote Trump. "That's the end of that race!"
It's pretty pathetic to see an entire party abandoned Americans for outsiders. Do they really think Americans will vote for them?
Every last 2020 candidate promised to spend your tax dollars to provide healthcare to border jumpers.
Is that right? Democrats can't even come up with a plan to provide Americans with affordable coverage. The last time they tried to do it, it nearly destroyed our medical system (thanks, Obamacare).
Now, they want to spend what will end up to be billions (if not trillions) on free healthcare for anyone but Americans.
Trump totally humiliated them when he said they don't want to help American citizens.
This entire Democratic primary has been about pandering to outsiders. From candidates stumbling over Spanish phrases to promises of free healthcare to outsiders to plans that will take jobs and opportunity from us.
It's pretty clear: Democrats seem to care more about border jumpers than Americans.
Looks like only man putting us first is in the White House. Let's make sure he stays there.
SHARE if you agree with Trump—he's going to win in a 2020 landslide!
Source: Daily Wire