After Trump Says Twitter Could Ban Him Soon – Donald Says He May Switch To Fast-Growing Rival Parler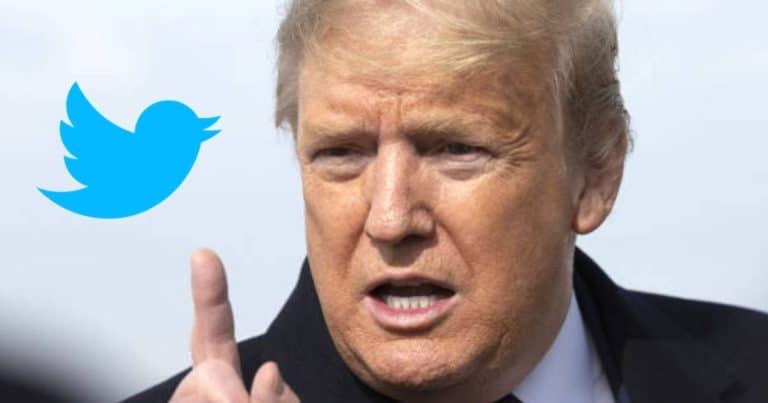 What's Happening:
It appears social networks are becoming increasingly strict over content as we get closer to the 2020 Election. Even President Trump has been targeted by Twitter, with several of his posts being "fact-checked" or flagged by the company.
Many have accused social media companies of censoring conservatives to prevent their views from being shared. President Trump signed an executive order directing the DOJ to investigate attempts by social networks to infringe on Americans' free speech.
Now, it appears that Trump might ditch mainstream social media altogether for an alternative:
In response to a question on whether he expects to soon be banned by Twitter — where he has over 82 million followers — Trump said: "Yes, I do."

The president believes the ban from the popular platform will happen in the fall before the 2020 election, an opinion shared by others in the White House…

"Some people say I should join Parler," Trump said. "Maybe. We do have over 194 million followers, though, across multiple sites."
Our Take:
President Trump enjoys his ability to speak directly to Americans on social media, without interference by the press. But it seems left-leaning social networks seek to influence future elections (or at least control the political conversation online), by clamping down on conservative users.
This trend to suppress or outright ban conservatives has compelled many to flock to greener pastures. Several alternative social media sites have popped up in recent years, in response to censorship concerns. One that has seen a significant boost in users has been Parler:
A whopping 500,000 users signed up for social-media platform Parler after Twitter shut down two conservative accounts this week, according to user metrics obtained by Mediaite.

The surge brings the two-year-old platform's total number of users to 1.5 million, according to data provided by the company, an increase of 50 percent.
It's possible that if Donald Trump moves to Parler, he'll bring with him millions of new users. Such a major shift could result in a large drop in users on older platforms like Twitter.
Could that force Twitter (and others) to reverse their censorship policies? Or will they only double down on their attempts to silence speech they deem "unacceptable"?
That remains to be seen.
Key Takeaways:
President Trump believes he might be banned on Twitter after the site censored his tweets.
Trump might move to Parler, which saw a 50% rise in users recently.
Alternative social networks are welcoming conservatives, after they've been banned on Twitter, etc.
Source: The Federalist, Mediaite