Trump Scores Unanimous Court Victory – Democrat 'Hunt' Collapses In Washington Swamp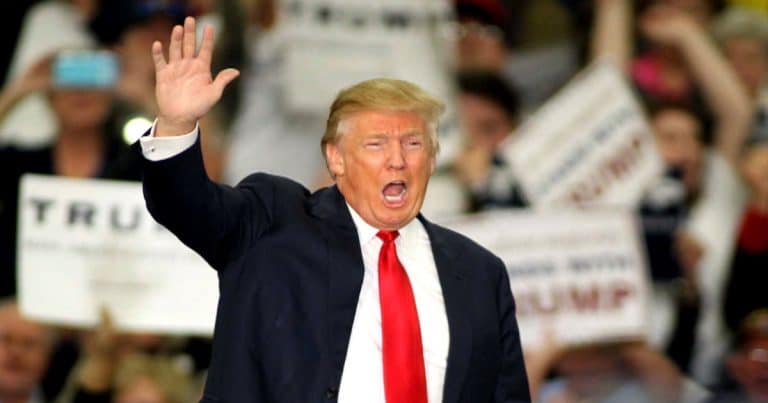 Donald is celebrating a big win over the D.C. Deep State!
Just in case you didn't know:
President Donald Trump was accused of violating the Constitution, and was subsequently taken to court.
The lawsuit was brought by the attorneys general of Maryland and Washington, D.C., who claimed Trump was at fault.
They said the President's earnings from his hotel and related businesses "violated prohibitions against receiving benefits from foreign governments, the U.S., or individual states."
But the Fourth Circuit didn't buy this accusation.
According to Fox News, the court just tossed out the case, citing a lack of "standing to bring the case in the first place."
And now, Trump has fittingly responded to this victory, calling out "a big part of the Deep State" in the process: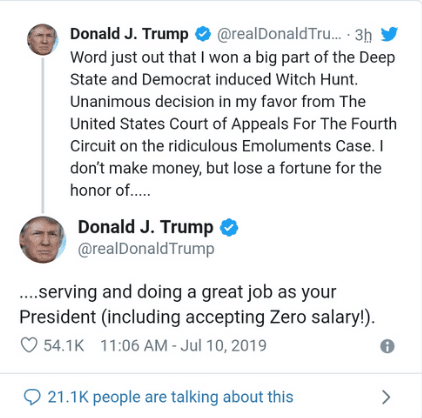 "Word just out that I won a big part of the Deep State and Democrat induced Witch Hunt.

Unanimous decision in my favor from The United States Court of Appeals For The Fourth Circuit on the ridiculous Emoluments Case.

I don't make money, but lose a fortune for the honor of serving and doing a great job as your President (including accepting Zero salary!)."
Yup, BIG win for POTUS!
The complaint said Trump earned millions "from foreign governments and persons acting on their behalf, as well as federal agencies and state governments."
But The Fourth Circuit basically said they didn't have a case.
Why? Because they couldn't "establish that they suffered any harm that justified the lawsuit."
In fact, the ruling was pretty harshly worded; the court implied that this case was simply wasting everyone's time:
"The District and Maryland's interest in enforcing the Emoluments Clauses is so attenuated and abstract that their prosecution of this case readily provokes the question…

…of whether this action against the President is an appropriate use of the courts."
In my estimation, it certainly wasn't an appropriate use of the courts.
And while D.C. attorney general Karl Racine and Maryland attorney general Brian Frosh said they'd keep pursuing their options, the matter is closed for now.
As well it should be.
The court has ruled that they frankly don't have a leg to stand on; they ruled that actually, there was nothing to rule on.
How many of these frivolous lawsuits must Trump face?
And how many times must these cases be dismissed, or Trump be declared innocent, before people leave him alone?
The President has a job to do, and many think he's doing it quite well. So let him do his job. Simple.
Do you support POTUS and his constant battle against the Deep State and Democrats? He needs that support, remember!
Source: Fox News