Trump Releases Video Update for His Fans – Donald Finishes by Delivering an Eye-Opening Prediction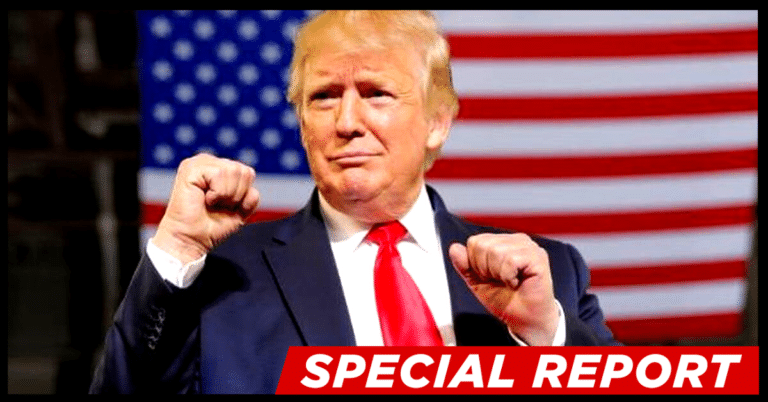 Former President Donald Trump is on the cusp of making history: he might be the first former POTUS to be arrested for a criminal offense.
However, the controversial GOP leader maintains his innocence, and has called the entire legal fiasco a "witch hunt."
Now, he's got a powerful message for his fans.
Trump took to Truth Social and unloaded several hard-hitting statements in his defense, and went after several of his attackers including NY District Attorney Alvin Bragg.
The charges come from an alleged $130,000 hush-money payment to former pornstar Stormy Daniels.
But the former President says it's all baloney (via Fox News):
In a post on Truth Social, Trump called the 'four horrible, radical, left Democratic investigations of your all-time favorite president' just an extension of the 'most disgusting witch hunt in the history of our country.'
Trump also cited Russia and Ukraine, as well as the "Mueller hoax," who once probed the Trump campaign for possible collusion with Russia.
But Donald was quick to point out the results of that investigation:
Remember this, with all of this work that they did on Mueller, no collusion. That's what the answer was. It was all no collusion.
Trump further talked about the now-infamous Mar-a-Lago raid, where the FBI reportedly took away boxes of classified material.
Then there was the January 6 fiasco, and Democrats continue to accuse Trump of wrongdoing there as well.
In response in the video, Trump called all of it "fake news" and then offered a bombshell prediction for 2024:
Our enemies are desperate to stop us because they know we are the only ones who can stop them, and they know it strongly.

Looking at the polls we're — not me, but we — are up by so much you can't even believe it.

We won twice, and now we've got to win a third time.
Whether or not Trump will actually be indicted is a decision that'll be made by a Manhattan grand jury.
Some maintain that an arrest and indictment will result in a fresh windfall of support for Trump, who's one of only a few confirmed Republican contenders right now.
Others say it's not a coincidence that this happened shortly after Trump confirmed his run — that Democrats are simply attacking him to keep him from getting back into the White House.
Either way, expect several more big updates in the days and weeks to come.
Key Takeaways:
Former President Donald Trump released an update video for his supporters.
Trump maintained his innocence, and ripped Democrats for "fake news" and unfairly attacking him.
He also predicted that he will win again in 2024.
Source: Fox News