Trump's Book Sales Report Just Landed – 24 Hours After Releases, "Our Journey Together" Hits Milestone Of $1M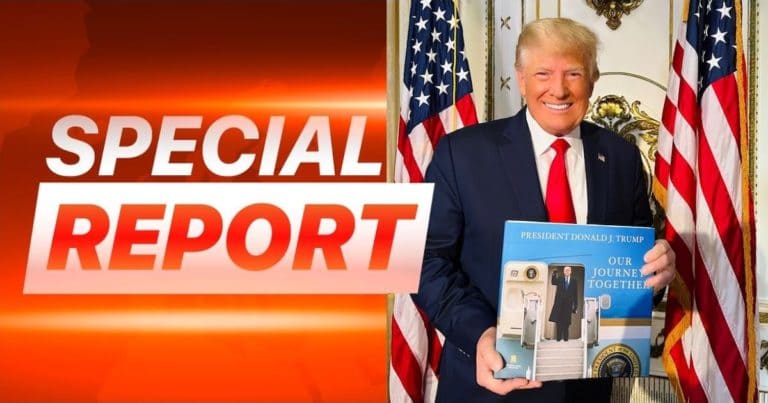 Former President Donald Trump has continued to be a driving force in American politics throughout 2021. Democrats likely hoped he'd recede into the shadows, but that really hasn't happened.
Trump is never afraid to voice his opinion on the most pressing matters of the day, and his endorsement of Republican candidates often leads to victory for the GOP.
Now, Trump has a new book out — and it's already burning up the charts.
This further cements Trump's influence within the Republican party and among right-wing citizens. While he remains largely controversial, there's no doubt that Trump has a loyal following.
That's reflected in the brisk sales of his book, appropriately entitled, Our Journey Together.
The book hits many highlights of the Trump administration, including the building of the southern border wall, cutting taxes, rebuilding our previously ailing military, successful foreign affairs, and more.
Despite his detractors, Trump can point to a number of achievements on the domestic and international stage.
And that's precisely what his fans want to read about, which is probably why Our Journey Together is already wildly popular. It's probably even exceeding Trump's expectations.
Via Washington Examiner:
His new publisher, Winning Team, said that the sales of Our Journey Together crossed $1 million in the first 24 hours after Secrets revealed the new Trump project.

They also said over 9,000 hardcover copies have been preordered.
Winning Team Publishing President Sergio Gor said this is an "extraordinary" accomplishment.
He also said that in fact, it's even more impressive for one reason: the company hasn't even started promoting the book on radio or television yet. The campaign for this title hasn't even begun.
This means that those $1 million in preorders came entirely from news articles and Trump's own promotion.
It's embarrassing news for the big publishing houses, all of which swore they wouldn't put out Trump's books. Obviously, they missed a big chance to score some serious revenue.
On top of that, when people heard about publisher refusal to deal with Trump's book, it only further solidified the cries of "cancel culture" that have cropped up all over the country.
There's no knowing how high sales of Our Journey Together will go, but it's off to a flying start. And again, it's only the beginning.
Trump describes it as a "coffee table book," featuring 300 color photographs of the former Commander-in-Chief's achievements in the White House, along with handwritten comments from Trump himself.
It's slated to be released on December 7. But at this rate, millions will already be pre-sold before it even hits store shelves.
In a statement given to Life, Liberty and Levin host Mark Levin, Trump said the book focuses on his four "amazing years" in office, and condemns current President Joe Biden's "embarrassing and humiliating" start.
This probably isn't what Democrats and left-wing politicians wanted to hear.
They were hoping Trump's popularity would wane after leaving office but if anything, he's gotten even more popular. And that could mean another presidential run in 2024.
Key Takeaways:
Former President Donald Trump's new book is already hitting milestones, even before it releases on December 7.
Our Journey Together has hit $1 million in preorder sales in just 24 hours. This includes 9,000 hardcover copies.
The "coffee table book" boasts 300 pictures of Trump's achievements in office, with handwritten comments by Donald himself.
Source: Washington Examiner