During Trump's WWII Speech, He Suddenly Leaves The Podium To Perform A 100% Patriotic Gesture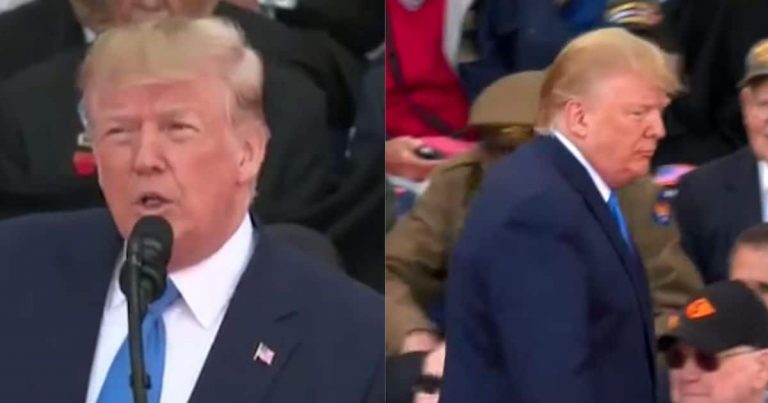 This brought tears to my eyes—and if you're a patriot, it will to yours too!
President Donald Trump never misses an opportunity to pay his respects to American heroes.
This week, the Commander-in-Chief honored the D-Day heroes in Normandy, France.
And it might've been the very best speech of Trump's presidency to date. Even liberals seemed to like it!
But perhaps the most impressive moment of the speech didn't have any words…
Trump started by appropriately addressing the World War II veterans, both those who have passed and those in attendance.
The President's words were poignant:
"You are the pride of our nation, you are the glory of the republic, and we thank you from the bottom of our heart."
He added that the Normandy soldiers weren't merely carrying packs on their backs, they were also carrying "the fate of the world" on their shoulders.
Really, a truly passionate and wonderful speech.
But then he singled out Russell Pickett, "the last known survivor of the legendary Company A."
Then the President suddenly stopped and left the podium, and approached Pickett in the crowd…
Watch what Trump does next; it's the most heartwarming gesture you'll ever see.

Look at that! Trump walked over and gave the American hero a hug!
This is the mark of a true leader, one who honors and respects those who have served. And as I said above, Trump never misses the opportunity.
These men braved unspeakable horrors to fight for freedom and their country.
And though many are gone, we should never stop remembering and appreciating what they did.
Trump never will, that's for sure. And he shows that pride every chance he gets!
Don't you think Trump did an INCREDIBLE job with this speech? SHARE if you do!
Source: The Daily Caller