Watch Trump's State of the Union LIVE Here – And Join In The Discussion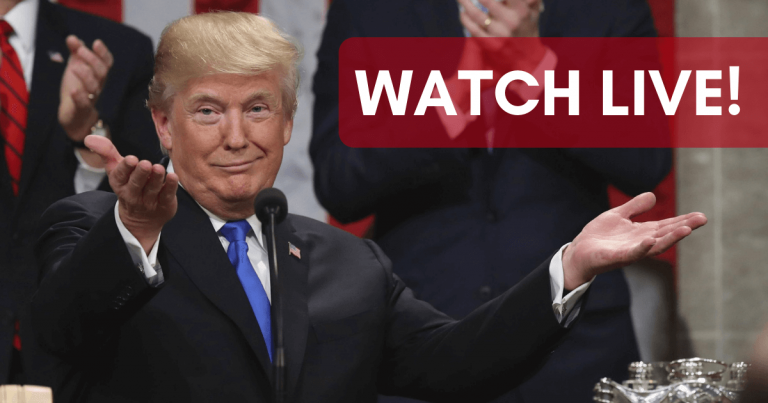 Trump's most anticipated speech of his Presidency – What do you want to tell the President?
President Trump has been on a wild ride so far in 2019 – and now he is going to address the nation before Congress.
What surprises might he have in store? He is expected to speak on unity for the nation.
Watch it LIVE on Fox News below, and share your thoughts on everything happening in the comments!
Updates:
Note: All the Supreme Court Justices are present – except Justice Ruth Bader Ginsburg, even though the media claimed, without any photos or video, that she was able to get out in public the other night. This leaves big questions about her health.
Trump's entrance received a massive, unbelievably long standing ovation, along with two great ovations for the First Lady.
"Victory is not winning for our party. Victory is winning for our country!"
"Tonight, I ask you to choose greatness!"
"Members of Congress, the state of our Union is strong!" (Congress chants "USA! USA! USA!" and Trump replies "That sounds good.")
Wow. Trump turned to illegal immigration and the tension is through the roof. The political class, he says, is hiding behind walls and armed guards while the working class pays for illegal immigration.
Probably the boldest moment of President's life, to stand up against illegal immigration, drugs, and MS-13 in front of Congress.
Then Trump praises women in the economy, and the big block of Democrat women standing in solidarity have no response and won't clap, until they realize they are being praised. Eventually, the entire room was chanting "USA!" – including these women and Nancy Pelosi.
Democrat women can stand to celebrate themselves, but not for the arrest of sex traffickers. #SOTU #priorities @DNC

— Ping Ping a BOO (@PingPingaBOO1) February 6, 2019
After moving commitments to eliminate HIV and fund child cancer research, Trump took another bold move to stand up for unborn life and put forward in Congress a bill to end late-term abortions. A roar of applause erupted – from Republicans.
Almost all Democrats were sour and silent. It was powerful to see Joe Manchin, Democrat from West Virginia, stand and applaud in front of the women in white who sat silent. America must stand for innocent life.
"America will NEVER be a socialist country!" Roars of applause from Republicans. I'm sure AOC was hating that.
Wow – this keeps getting better and better! Just when you thought Trump couldn't stick it to Democrats more…
"America was founded on liberty and independence – not government coercion, domination, and control. We are born free, and we will stay free. Tonight, we renew our resolve that America will never be a socialist country," said Trump.
As Democrats boo as they are outed and Republicans roar in applause, the camera pans to Bernie Sanders looking like the grumpiest old man ever seen.
Also powerful was Trump's recognition of an 81 year-old man named Judah who had survived the Holocaust and the recent synagogue shooting.
Congress broke out in a spontaneous rendition of "Happy Birthday" to him. Then Trump recounted Judah's story of living in a concentration camp with his family and boarding a train to another camp.
The train was stopped and American troops had come to save them.
Democrats chanting "USA, USA" and a bunch of politicians singing "Happy Birthday" – Only Trump could pull that off. #SOTU

— Dan Bongino (@dbongino) February 6, 2019
He finished with a rousing vision for the future gratness of America.
Bravo, President Trump!
What did you think of the speech? Share your thoughts below!
And SHARE if you thought Trump's speech was one of the best ever!
Source: YouTube