Tucker Carlson Finally Speaks Out After Firing – And He Just Got an Eye-Opening Job Offer from Former Fox Host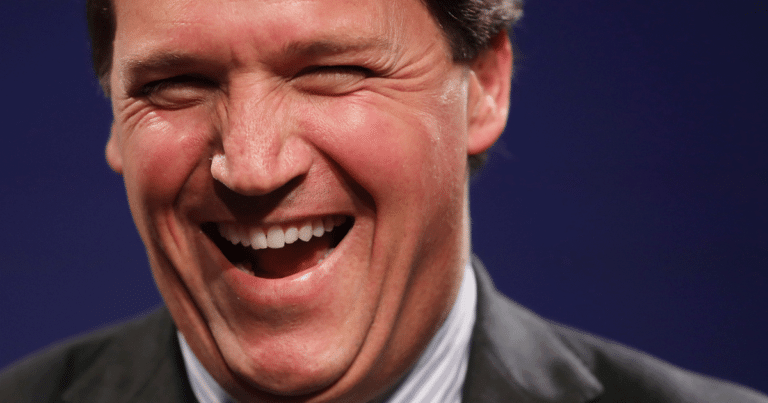 What's Happening:
Fox News viewers were shocked this week after learning the network parted ways with one of their top hosts. Fox News unceremoniously fired Carlson for seemingly no reason. Some speculated on the cause, either painful lawsuits hurting the company or the whims of Rupert Murdoch.
Regardless of the reasons, nobody's heard from Tucker, until today.
Millions of Americans are eager to find out Tucker's side of the story. He was fired without being able to say goodbye to his viewers. Fox News lost money in the deal, with its stock dropping. But one outlet spotted Carlson for the first time after the news broke. And this is what he had to say.
From Daily Mail:
'Retirement is going great so far,' chuckled Carlson… 'I haven't eaten dinner with my wife on a weeknight in seven years.'

Pressed on his future, the flame-throwing former host of Tucker Carlson Tonight flashed a broad smile and joked: 'Appetizers plus entree.'
The noted host was seen driving in a golf cart near his home in Florida. He commented jokingly that his "retirement" was going great. When asked about his future plans, he quipped "appetizers plus entree."
It seems Carlson is in no way saddened by the loss of his Fox News show. Many have speculated that he will soon take his considerable audience and bring them to a new platform. He might already have many offers from alternative outlets to do a show of his own. In fact, another notable Fox alumnus just extended one.
From The Western Journal:
Glenn Beck, a former Fox News host and the founder of Blaze Media, offered Tucker Carlson a job on Monday after the latter was axed by the company…

"We would love to have you here," Beck said in a statement that was aimed at Carlson.

He added, "You won't miss a beat. And together, the two of us will tear it up. Just tear it up."
Glenn Beck, who was a famous Fox News host himself, extended an offer to Tucker Carlson. Beck is the founder of The Blaze, an alternative news website and streaming service. Beck promised that with Tucker on his network, they'd, "tear it up."
It's not a shocker that the offers are already rolling in. Carlson would be a huge asset to Beck's network. I guess Carlson is so happy because right now he has the world by the oyster. He can literally write his own ticket, picking whatever network he wants to start a new show.
He might even launch his own streaming network to rival the Blaze or Daily Wire. Whatever happens, we can guarantee Fox will regret it.
Key Takeaways:
Carlson was seen with his wife for the first time after Fox fired him.
He joked with reporters, saying his new retirement was great.
Former Fox host Glenn Beck offered Tucker a job at his network.
Source: Daily Mail, The Western Journal