Tucker Carlson For President Group in Big Trouble – They Just Got a "Cease and Desist" Order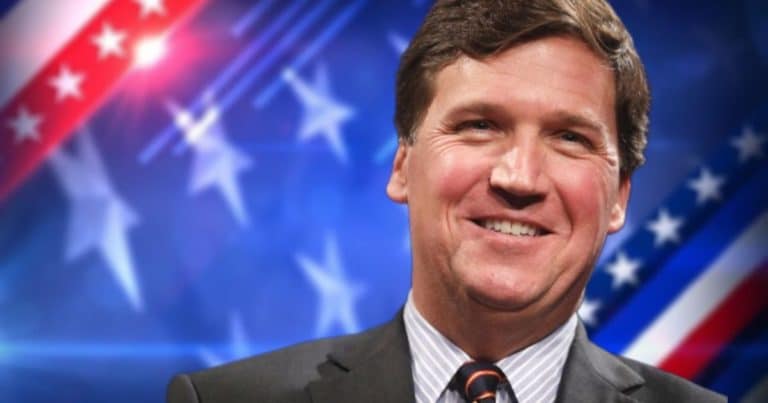 Ever since Tucker Carlson was fired from Fox News, the controversial conservative host has been making headlines.
Some of his fans were hoping he might take a shot at the presidency in 2024, leading to many rumors about Carlson potentially running for office.
One PAC tried to draft him to run — but that turned out to be a mistake.
The Draft Tucker PAC has been in action for some time now, as they set out to get Carlson to compete against the likes of Donald Trump and Joe Biden.
But Carlson's people weren't fans of this at all, and they reacted harshly to the effort.
Via The Daily Wire:
Former Fox News host Tucker Carlson responded — through his attorney – to a PAC that attempted to draft him for a 2024 presidential run, and he made it absolutely clear that he was not interested.

Carlson's attorney Harmeet Dhillon sent the Draft Tucker PAC a cease and desist letter, which was obtained by Mediaite, demanding that they stop raising funds using Carlson's name.
In the letter, Dhillon said that the PAC was "soliciting contributions and donor contact information from the public," and that the funds would go towards Carlson's 2024 run.
But Dhillon made it plain that "Mr. Carlson will not run for President in 2024 under any circumstances."
Because of this, the PAC is misrepresenting Carlson's intentions and as a result, that means fraud in soliciting contributions.
And the warning is very real:
If you do not immediately cease and desist your efforts to solicit money to 'draft' Mr. Carlson, we will use every legal means at our disposal to vindicate his rights and protect his supporters from these misrepresentations.
The PAC in question was created by GOP donor and former Texas congressional candidate Chris Ekstrom, and filed the FEC paperwork back in April.
At the time, Ekstrom said he wanted Carlson to run because the two probably Republican frontrunners (Trump and DeSantis) would push the party too far right.
In comparison, Carlson might be considered a bit more moderate.
But either way, he won't be throwing his hat into the ring in 2024, and anybody who claims he is will likely get a quick rebuff from Carlson's team.
Key Takeaways:
The Draft Tucker PAC has been hit with a "cease and desist order."
Tucker Carlson's team confirmed he would not run for President in 2024, and soliciting contributions is basically fraud.
The PAC was formed by Chris Ekstrom, who believes Trump and DeSantis will push the GOP too far right.
Source: The Daily Wire