After Tucker Learns the Reason for His Firing – He Gives His Fans a Major Announcement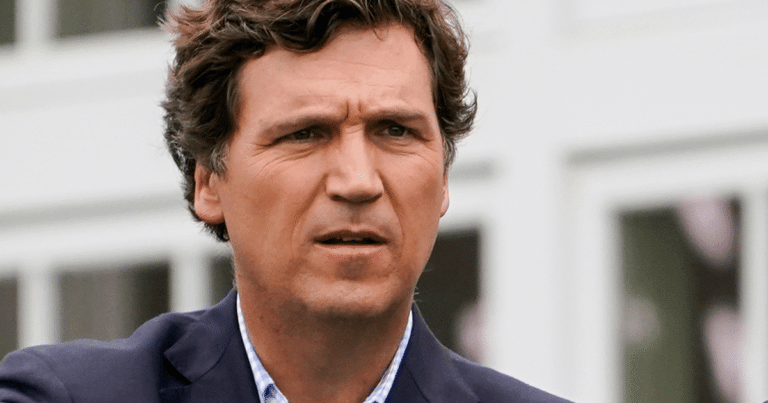 What's Happening:
Plenty of people have speculated on why Fox News fired their top host, Tucker Carlson. Some have claimed they wanted him gone, but will continue to pay him so he can't start a new show. Tucker, for his part, has been very quiet about the situation. Reports say his allies are getting read to "go to war" with the cable news channel. One story has even claimed that Tucker was fired, because it was a condition of the Dominion settlement.
From The Post Millennial:
Two people briefed on the conversation told Axios that Carlson had been told by a Fox board member that he was taken off the air abruptly last month as part of the settlement with Dominion Voting Systems.
If true, that is very shocking. Fox allegedly fired Tucker Carlson as part of a settlement with a voting machine company? Seems pretty odd to me. But the acclaimed host has not let this shut down his aspirations. And he just made some major news on social media.
From The Washington Examiner:
Former Fox News host Tucker Carlson announced Tuesday that he would be making his return with a new show on Twitter.

In a video posted on the platform, Carlson said he would return with a new version of his old Fox News show but aired on Twitter instead. He didn't provide a time frame for when he would begin his new show.
We're back. pic.twitter.com/sG5t9gr60O

— Tucker Carlson (@TuckerCarlson) May 9, 2023
Whoa. In a video that has already been seen by 20 million viewers, Tucker announced he will continue his show… wait for it, on Twitter!
People have said that Fox News was keeping Tucker under contract, to prevent him from going to another network. But it seems that the contract says nothing about social media! It could be that Fox News will keep paying him, as he launches a show on Twitter. Talk about poetic justice.
Rumors had spread that Tucker and Elon Musk were talking. Now, we know Tucker will be launching a new version of his news shot, streaming exclusively (it seems) on Twitter. Elon said that no deal had been signed. But we do know the CEO is eagerly wanting creators to use Twitter as a way of monetizing their content.
Carlson chose Twitter because he believes it is the only platform left online that protects free speech. That wasn't even true until Elon Musk took over. The previous leadership at Twitter cooperated with Democrats in the federal government to censor users.
It's unclear right now how Tucker plans to make money from his new show. Musk has talked about creating subscriptions for users, as well as ad revenue sharing for content creators. Whatever the case, we can assume Tucker will have a bigger audience online than on Fox.
His first video, posted days after his firing, received more views than any show on Fox. And the launching of a full news program on Twitter will only inspire more people to do the same.
Talk about a win-win for Elon!
Key Takeaways:
Tucker Carlson announced a new show on Twitter.
Rumors suggest he was fired by Fox over the Dominion lawsuit.
Carlson claims Twitter is the only platform left protecting free speech.
Source: The Post Millennial, The Washington Post