Tucker Drops Major Bombshell on Fox News – Were they Trying to Hide This?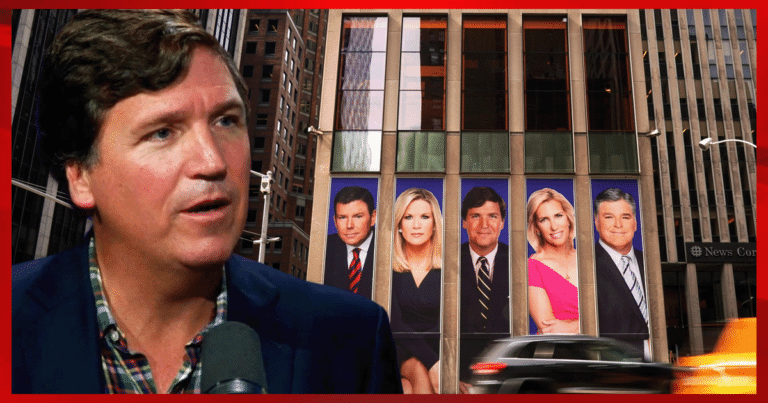 What's Happening:
Tucker Carlson finally broke his silence after being fired from Fox News. The top-rated host was interviewed by comedian-turned-commentator Russel Brand on his "Stay Free podcast." During the show, Carlson touched on a number of issues, ranging from the current state of news to the upcoming election.
But when he turned to matters related to his time at Fox News, he dropped a bombshell. We all suspected that the "conservative" network fired Tucker for speaking his mind. Some noted the timing of his cancellation–just days after he aired real footage from J6. And he revealed that Fox dumped him before he could report on this.
From The Post Millennial:
Former Fox News host Tucker Carlson dropped a massive bombshell during his recent guest appearance on the Stay Free podcast, telling show host Russell Brand that the crowd outside of the US Capitol at the time when riots took place on Jan. 6, 2021 was "filled with federal agents."

[…] Speaking of firings, Carlson stated that his exchange with now-former police chief Sund never hit the airwaves as it occurred around the same time he was ousted by Fox News.
This is pretty big. Before Carlson was fired from Fox, he interviewed former U.S. Capitol Police Chief Steve Sund. Sund was fired by former House Speaker Nancy Pelosi after the events of January 6th. It appears Sund revealed to Carlson that the crowd that descended onto the Capitol was "filled with federal agents."
Carlson was never able to air the interview with Sund, telling the world what he knew about the riot, because he was fired by Fox just before he could show it.
The timing of this interview and Tucker's ousting seems highly suspicious to some. Was it possible that Fox News was trying to censor this interview? Do they not want Americans to know that the U.S. Capitol Police Chief believed that the crowd of "Trump supporters" had been infiltrated by federal agents?
Many have wondered about the suspicious events of January 6th. Carlson himself shattered the left's narrative that it was an "insurrection" by Trump supporters. It seems that federal agents had some kind of hand in the day's events.
Were these the same federal agents that have been abusing their power for years to help Democrats and hurt Republicans? The same federal agents who, in 2020, refused to investigate Hunter Biden? The same federal agents that had a document accusing Biden of bribery, but did nothing with it for years?
I doubt these are all unrelated.
Key Takeaways:
Tucker Carlson revealed he was fired before airing an interview about the January 6 riot.
Former U.S. Capitol Chief Sund revealed the crowd was "filled with federal agents."
Carlson had previously exposed the left's false narrative of the day.
Source: The Post Millennial