After Tucker's Numbers Go Through The Roof, Many Republicans Think He Could Be The Next President In 2024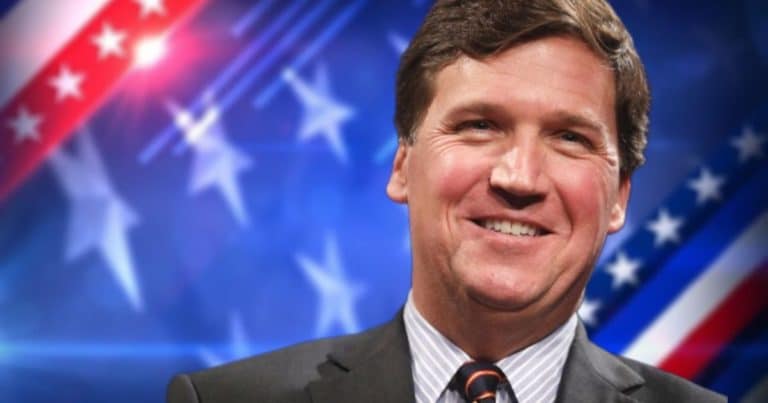 What's Happening:
When Black Lives Matter came for Tucker Carlson, he refused to apologize. Left-wing group MediaMatters tried to get the host fired from Fox News. What ended up happening was Carlson's ratings hit new highs.
The man's show beat every competitor, breaking records for a cable news channel. Now, some think he might be the next leader of the Republican Party:
Tucker Carlson's audience is booming — and so is chatter that the popular Fox News host will parlay his TV perch into a run for president in 2024.

Republican strategists, conservative commentators, and former Trump campaign and administration officials are buzzing about Carlson as the next-generation leader of Donald Trump's movement — with many believing he would be an immediate frontrunner in a Republican primary.
Our Take:
Carlson impressed many Americans when he called out Black Lives Matter. The backlash from the left was thick and fierce.
They successfully got companies to stop advertising on his show, a sort of boycott aimed at choking his show of financial support. The common tactic by the left was to get Fox News to fire Carlson or get him to apologize.
Instead, Carlson doubled down on his views, calling out BLM as a political party that cannot be criticized. His unwillingness to back down must have won over many new viewers. His ratings during the supposed boycott only climbed.
It appears some conservative strategists admire the man's poise, resolve, and convictions. Clearly, he's an effective communicator, with a strong ability to connect with Americans.
Those are all good attributes when you run for public office.
Should Trump win 2020, there will be a vacancy in the next election. Republicans will be looking for a new figure to lead the party. Could it be Tucker?
Key Takeaways:
After Tucker Carlson stood up to BLM, his ratings soared.
Some conservatives are eyeing him as the next presidential candidate.
They claim Carlson's success on Fox News might win him the 2024 Election.
Source: Politico