Twelve Republicans Send Demand To AG Barr – They Want The Justice Department To Protect From 'Mob Rule'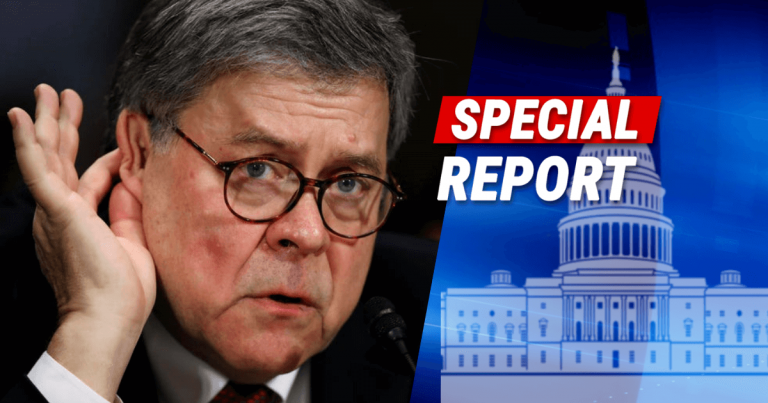 What's Happening:
Since early Summer, protests and riots have spread across the country. Many Americans have watched helplessly, as local leaders prevented police from stopping the destruction. Homes, businesses, and even churches have been destroyed.
In St. Louis, homeowners were compelled to brandish weapons (which they owned lawfully under the Second Amendment) as an unruly mob marched through their neighborhood.
While the protesters were released, this couple is facing serious penalties. The police took their weapons and they may prosecute them.
So now, twelve Republican lawmakers have written to AG Barr, demanding action:
Twelve Republican lawmakers wrote a letter to Attorney General William Barr late last week demanding that the Department of Justice take "decisive action" to protect American's rights from "mob rule."

… "At this crucial time in history, our nation needs the Department of Justice to exert strong leadership to ensure that none of our constitutional protections are eroded by mob rule," the letter continued.
Many observers were shocked at how the liberal-leaning media vilified the St. Louis couple for defending their home. These homeowners did not seem to break any laws—they just offended woke liberals.
From all appearances, they were trying to prevent trespassers from hurting them. Yet this couple has been found "guilty" in the court of the left-wing mob.
If nothing is done on the federal level, this trend might continue. Democrat leaders will order police to stand down. Mobs will move from the inner city to neighborhoods and suburbs.
Residents will have no choice but to defend their homes, only to be punished by the very people who should have protected them.
These twelve lawmakers are calling on the Justice Department to step in and prevent this scenario from repeating all over the country. Who are these lawmakers standing up for the rule of law?
The letter was signed by Republican Reps. Louis Gohmert (TX), Mo Brooks (AL), Greg Steube (FL), Brian Babin (TX), Paul Gosar (AZ), Alex Mooney (WV), Andy Harris (MD), Ted Budd (NC), Steve King (IA), Steve Watkins (KS), Jody Hice (GA), and Scott Perry (PA).
Radical leftists are eager to deprive Americans of their Second Amendment right to defend themselves. Meanwhile, they do nothing as protesters defy the law at every turn.
The attorney general can exert considerable authority in this matter. He can direct U.S. attorneys across the country to pressure local leaders to prosecute rioters. The DOJ and FBI can use their resources to investigate the origins of these protests and riots.
They can (and have) apprehend leaders of these movements. Not only that, but the DOJ can defend Americans whose Second Amendment rights are being threatened by local authorities (as the DOJ did when churches were facing attacks during the lockdowns).
Key Takeaways:
12 Republican lawmakers are calling on AG Barr to protect Americans from "mob rule."
This comes after a couple has been targeted after trying to defend their home from protesters.
The DOJ and FBI can use their authority to prevent further attacks on the Second Amendment.
Source: Daily Wire