After Twitter Executive Fact-Checks Donald – His Anti-Trump Past Comes Spilling Out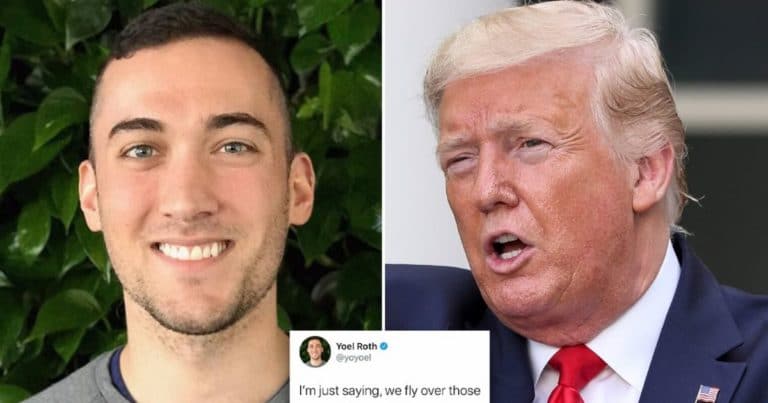 Twitter crossed the line yesterday: they fact-checked President Trump over a legitimate series of tweets.
They countered Trump's concerns with articles from CNN and MSNBC. But their reports were nothing but opinion-based critiques (hardly facts, if you ask me).
But it's worse than we thought. Turns out Twitter's head of "Integrity" has a long, checkered history.
From Fox News:
Twitter's "Head of Site Integrity" Yoel Roth boasts on his LinkedIn that he is in charge of "developing and enforcing Twitter's rules" …

However, Roth's own barrage of anti-Trump, politically charged tweets seemingly calls into question whether he should be creating guidelines for the president and other Twitter users, especially when Twitter is under fire for its alleged left-wing bias.
People have been pointing out that Twitter's "Head of Site Integrity"—the man responsible for fact-checking the president–has a long history of left-wing bias.
There are numerous tweets on his feed where he expresses disdain for Trump and his supporters. He's mocked Trump and once wrote, "I'm just saying, we fly over those states that voted for a racist tangerine for a reason."
Our Take:
Pretty ironic that the man responsible for Twitter's "integrity" is a raging leftist. His timeline shows frequent, outright hatred for Republicans and Trump supporters.
Yet we're supposed to trust this guy to vet everyone's tweets? Um… I call foul on that.
Why can't these social media sites find one conservative in their company to balance all this crap out?
Could it be because these Silicon Valley elitists long ago blacklisted conservatives from their community?
How can we take Twitter's attempts to protect the network seriously, when they hire a man who has a very obvious bias?
He's not some graphic designer or backend developer, mind you. He's responsible for deciding what can or can't be said on the website!
And Jack thinks this is okay?
If integrity is so important to Twitter, shouldn't they hire a team of people to oversee this process? Why don't they hire people with diverse political and cultural opinions? Have a few libs and conservatives on the team?
Heck, have a few people with no political opinion, who could be the most impartial!
I guess that's asking too much, huh? Twitter, like so many other websites, has an agenda to push. And it has everything to do with deciding how you vote in November.
SHARE if you stand with Trump, not Twitter