Hours After Twitter Calls Trump Fake News – Donald Threatens A Swift End For Them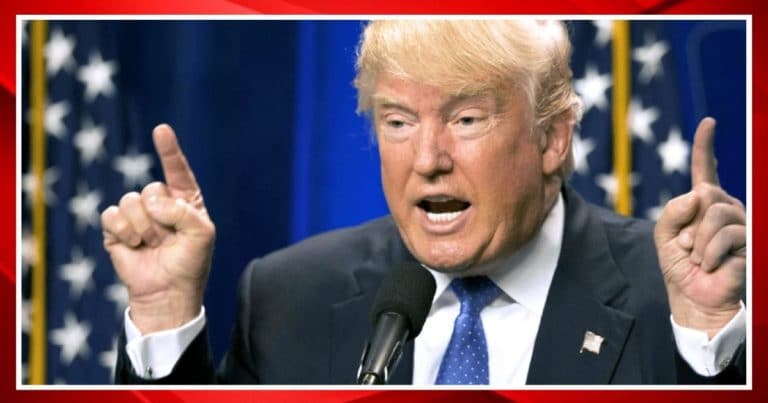 It looks like social media giant Twitter is picking a fight with the President of the United States. Despite the massive number of views Trump brings to the website, they felt the need to "fact check" his statements.
The social network is actually contradicting Trump's recent tweets about the dangers of mail-in voting. They even link to a CNN article that tries to debunk his worries that Democrats might use the system to rig the election.
How did Trump respond? Not kindly, you can believe that.
From Daily Wire:
On Tuesday night, President Trump slammed Twitter for fact-checking his tweets, which they had begun doing earlier Tuesday, starting with two of Trump's tweets about mail-in-voting. In his response, Trump accused Twitter of "interfering in the 2020 presidential election" and "stifling free speech," actions he vowed that he "will not allow."
Strong words from the President!
On Twitter, Trump launched a barrage of tweets aimed at the social media giant, and this one was the strongest:
Republicans feel that Social Media Platforms totally silence conservatives voices. We will strongly regulate, or close them down, before we can ever allow this to happen. We saw what they attempted to do, and failed, in 2016. We can't let a more sophisticated version of that happen again. Just like we can't let large scale Mail-In Ballots take root in our Country. It would be a free for all on cheating, forgery and the theft of Ballots. Whoever cheated the most would win. Likewise, Social Media. Clean up your act, NOW!!!!
President Trump fired back at Twitter after they branded his tweets with "fact check" labels. In so doing, Trump says the social network is trying to interfere with the 2020 Election.
He accused Twitter of stifling free speech, saying he would not allow it.
The president said this confirmed what conservatives have been saying for years. And that "big action" was about to follow.
Our Take:
You have to be deliberately blind not to see how liberal-owned social networks are trying to suppress conservatives online.
Twitter, with accusations of shadow banning and its support of SJWs, just might be the worst of them.
But we've never seen them try to directly oppose the President of the United States.
It's pretty shocking that a so-called neutral website would want to interfere with what the president is saying.
Do you really think this is about mail-in voting, folks? Twitter wants to erode America's confidence in the president's statements and agenda.
It is part of a long campaign, by leftists in Silicon Valley, to delegitimatize anyone whose opinion isn't lockstep with Democrats.
Don't believe me? How many times has Joe Biden—or any other liberal—said questionable things on Twitter?
Do you see them slapping labels on their tweets? Of course not.
For years, social justice warriors and other leftists have enjoyed free rein on Twitter. Yet prominent Republicans and conservatives are blacklisted, discriminated against, or openly banned.
Now, it appears the president is planning real action against this trend. The First Amendment doesn't go away because you're on a social network.
But what will he do to hold social networks like Twitter accountable? We'll have to wait and see.
SHARE if you stand with Trump and the First Amendment.
Source: Daily Wire, Twitter