After Twitter Bans Mitch McConnell, Trump-Cruz Alliance Sends Tech Giant Reeling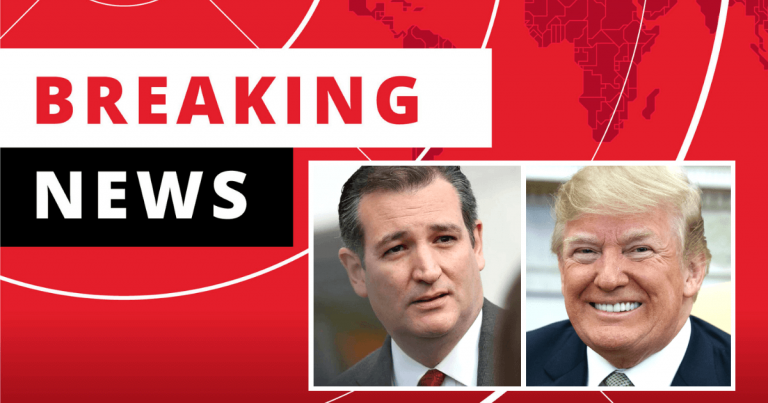 Twitter thought they won – but then Ted and Donald made them pay!
If you weren't aware, another high-ranking Republican is in Twitter jail.
It's Majority Leader Mitch McConnell, who had his account locked after he posted a video of protesters lodging terrible threats against him.
Apparently, an elected official isn't supposed to say – on a platform designed for freedom of speech – that he's being threatened.
Because now his campaign account has been suspended.
But something good has come from this: other Republicans on Capitol Hill are not happy. And they're taking action.
They're going to hit Twitter where it hurts most…
Their wallet.
Via Politico:
"President Donald Trump's campaign and the major, national Republican campaign committees announced Thursday they will stop spending money to advertise on Twitter after the social media platform locked Majority Leader Mitch McConnell's account for posting a video of violent threats against him."
No more money for you, Twitter!
Trump and Cruz, and many more, jumped into action to defend the Senate Majority Leader.
National Republican Senatorial Committee (NRSC) spokesman Jesse hunt labeled Twitter's action against McConnell "hostile" and "outrageous."
Then he said simply, "We will not spend our resources on a platform that silences conservatives."
How's THAT for some payback?
Ted Cruz also stood up to support this move: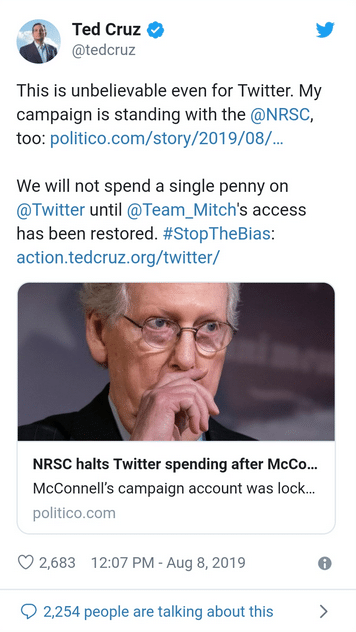 "This is unbelievable even for Twitter. My campaign is standing with the @NRSC, too. We will not spend a single penny on Twitter until @Team_Mitch's access has been restored. #StopTheBias"
It's a well-known bias, isn't it, my fellow conservatives?
How many of you have been "shadow banned" or punished for merely expressing your views on social media?
It's long past time for our leaders to do something about this suppression of free speech. And this is a great first step:
Stopping the flow of conservative advertising money to Twitter!
As Politico mentioned, this move is an "escalation" on the part of Republicans, who have been threatening to stand up to tech giant bias.
But threats and complaints get us nowhere. This is action, and it'll definitely hurt.
Don't forget that the NRSC "has spent low five-figures" in advertising on Twitter, and now that's all gone.
McConnell deserves to get his account back and until he does, this biased tech giant is going to feel the squeeze!
SHARE if you support Cruz and Trump, not Twitter!
Source: Politico