After Twitter Removes Trump's Viral Meme – Donald Replaces It With Scathing Democrat Impeachment Video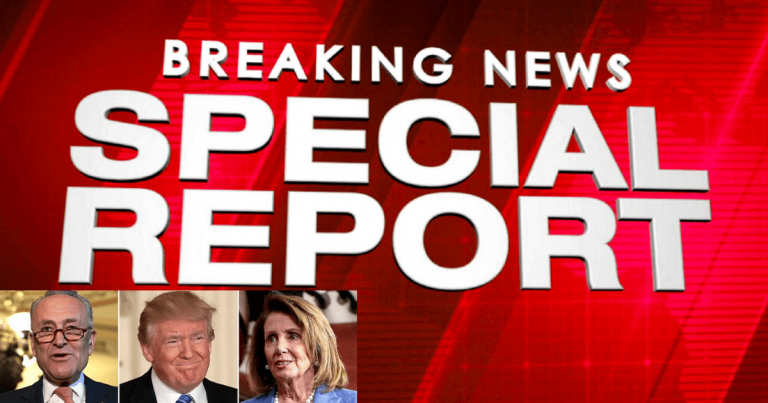 They tried to silence "The Donald" – now he's got Pelosi, Schumer and Biden on the run!
Yesterday Trump re-tweeted a cutting meme of Nickelback's "Photograph" song alongside the infamous picture of Joe and Hunter Biden with a Ukrainian businessman.
We know that photo blows a hole in Bidens' claim that he knew nothing of his son's business dealings. So in true Trump fashion, he was blowing the lid off the scandal and also mocking the Left.
And, what do you know? Twitter took down the video, claiming—of all things—a copyright dispute. Sure…
Well, the president replaced it with a hard-hitting video about the impeachment Democrats.
He exposed everyone from Biden, Pelosi, Nadler, Schumer, Sanders, Waters, and Al Green.
From Twitter:
DEMOCRATS WANT TO STEAL THE ELECTION! #KAG2020 pic.twitter.com/hz6fWLId3L

— Donald J. Trump (@realDonaldTrump) October 2, 2019

"DEMOCRATS WANT TO STEAL THE ELECTION! #KAG2020"
Trump's video shows with their words what Democrats are really up to.
Every last Democrat pushing for impeachment was strongly against it—when it was a Democrat in the White House.
All these leaders condemned impeaching Bill Clinton, accusing Republicans of being motivated by politics, not law.
Yet today, these same Democrats cannot accept the results of the 2016 Election. Ever since then, they've been trying one scheme after another to get rid of Trump.
The latest is over an innocent phone call!
The liberals who run Twitter thought they were being pretty smart when they took down that video.
But it only gave Trump more ammunition. The Left is trying to censor conservatives—even the president!
They don't want Americans knowing the truth. But Trump isn't going to let them get away with it.
SHARE to show everyone the Left's total hypocrisy!
Source: Twitter