Jon Voight Just Declared A Bold Message For Deplorables – After His Seat-Wiping Footage Goes Wide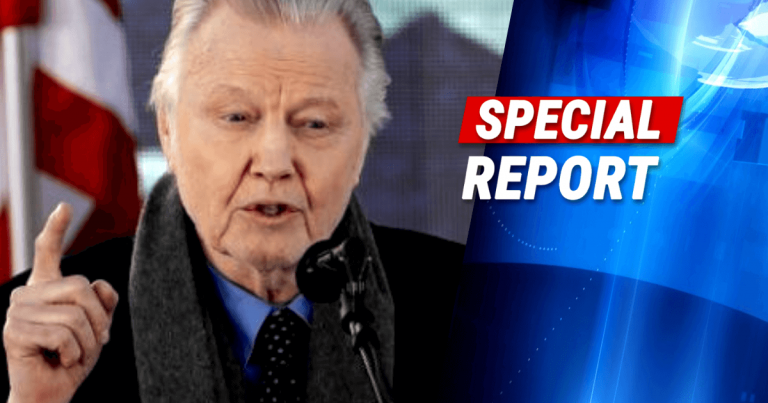 Are you a Deplorable? Then this powerful charge from Voight is for you!
Jon Voight is burning up the conservative airwaves ever since his appearance on July 4th.
If you didn't see it yet, a video catches the acclaimed actor wiping down seats for Gold Star families during the Salute to America event. The video went viral almost immediately.
From Daily Wire:
A video of award-winning actor Jon Voight wiping off seats for Gold Star families at President Donald Trump's "Salute to America" celebration was posted online on Monday by Michael Hahn and quickly went viral.

While Hollywood Elites protested President @realDonaldTrump's 'Salute to America' on July 4th…

Here's a video of John Voight cleaning the rain off seats for Gold Star families.

This is what it's all about! pic.twitter.com/q1iAyUnWSs

— Mike Hahn (@mikehahn_) July 9, 2019
Americans were stunned to see a legendary actor perform such a simple, yet humble task. He was willing to get wet so that American families would be comfortable and dry.
Not missing this opportunity, Voight has a message for all "deplorables," those Americans who have been shamed by the left.
From Twitter:
On behalf of all "DEPLORABLES"…

Thank you, @JonVoight! #MAGA🇺🇸 pic.twitter.com/Vtdv8BNs90

— Dan Scavino (@DanScavino) July 10, 2019
Woah—and Trump tweeted and pinned it to the top of his Twitter account!
Voight boldly declares his support for President Trump and highlights the many accomplishes he has already achieved.
In the video, he calls on all American patriots to make sure Trump is re-elected to do his work for the United States.
We know we are living through a battle. The D.C. swamp and corrupt leftists want to give our country over to globalists.
Many politicians want to sell us out to the highest bidder.
The only man standing in their way: Donald Trump.
In a few short years, he's reduced unemployment, brought jobs back, and is protecting our border.
Voight is calling on all "deplorables" to help Trump finish his job of making America great again.
SHARE to get out the word to all deplorables!
Source: Daily Wire, Twitter