Herschel Walker Hits Major Milestone in Critical Race – For the First Time, He Passes 50% Support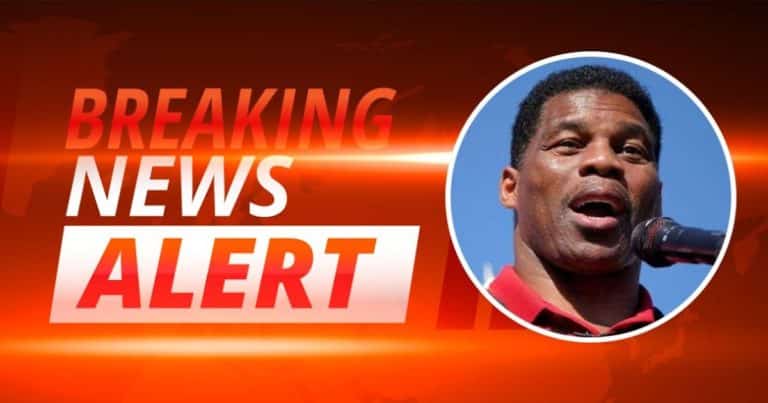 The Georgia Senate race between Democrat Sen. Raphael Warnock and GOP challenger Herschel Walker is one of the most-watched in the country.
In recent weeks, the Republican upstart appears to have taken the lead, despite a potentially damaging scandal involving an ex-girlfriend accusing Walker of pushing her to get an abortion.
Now, it looks like Walker is in the driver's seat — and he could just win the race outright.
Warnock vs. Walker is arguably the most popular Senate election race in America right now, though Fetterman vs. Oz in Pennsylvania has been getting a huge number of headlines.
Warnock led Walker by a decent margin in the late summer months, but new polls show Walker holding the lead.
And perhaps the most important aspect of the latest set of polls isn't necessarily the lead, but the fact that one poll shows Walker enjoying 51% support. That's a critical plateau for the election.
It means that Walker can avoid a runoff if he can hold onto that 50+ support. As for the polls (via The Daily Caller):
Republican senatorial candidate Herschel Walker is now seven points ahead of his Democratic rival, incumbent Sen. Raphael Warnock, according to a Thursday poll.

Walker earned the support of 51% of respondents, compared to 44% for Warnock, per Echelon Insights, which conducted the survey between Oct. 31 and Nov. 2.

The Georgia Republican's seven-point lead is one of the biggest to date, per FiveThirtyEight.
The numbers vary depending on which survey you see.
For example, a Remington Research poll gives Walker a 4-point lead, while Rasmussen Reports says Walker is ahead by 5. However, RealClearPolitics shows Walker with only a 0.5-point lead on average.
Walker has fought back against his ex-girlfriend's allegations about the abortion, calling the accusation a "flat-out lie."
And it looks like his race hasn't been hurt at all; if anything, he has gained in popularity. It's important to remember that many polls showed Sen. Warnock holding a double-digit lead just a few months ago.
Georgia might experience a significant "red wave" this midterm season:
Not only is Walker leading his race, but Republican Gov. Brian Kemp is well ahead of Democrat challenger Stacey Abrams. And GOP Secretary of State Brad Raffensperger is leading his opponent as well.
Midterm voting is just days away now, and these latest polls could spell trouble for Democrats in Washington.
While Senate Majority Leader Chuck Schumer and House Speaker Nancy Pelosi have predicted that they'll hold onto both chambers, many political experts and polls suggest a big change.
Key Takeaways:
Herschel Walker's lead over Sen. Raphael Warnock has increased, according to several new polls.
More importantly, one survey shows Walker with 51% support. If he can hold that, he'd avoid a runoff race.
Georgia may be very red after the midterms, as both Gov. Kemp and Secretary of State Brad Raffensperger are ahead in the polls.
Source: The Daily Caller